Black Bean Cakes with Orange Basil Salsa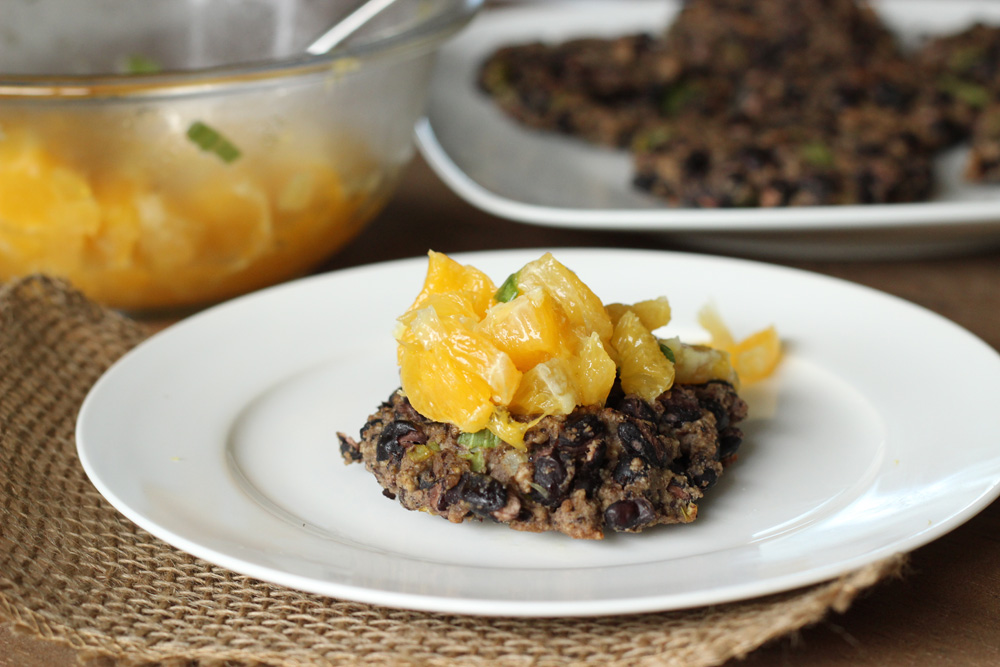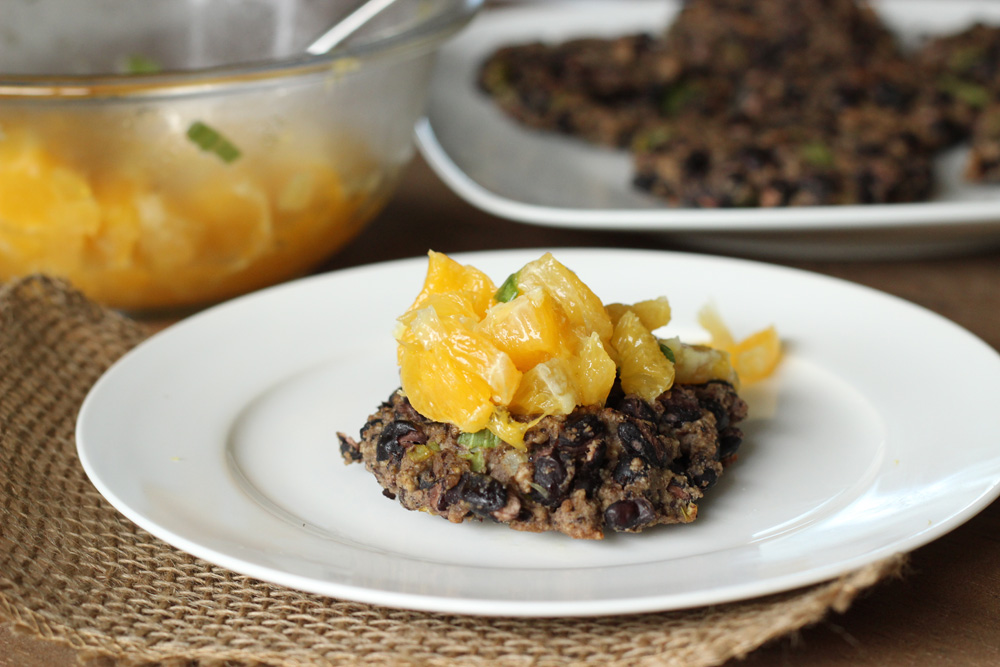 Black Bean Cakes with Orange Basil Salsa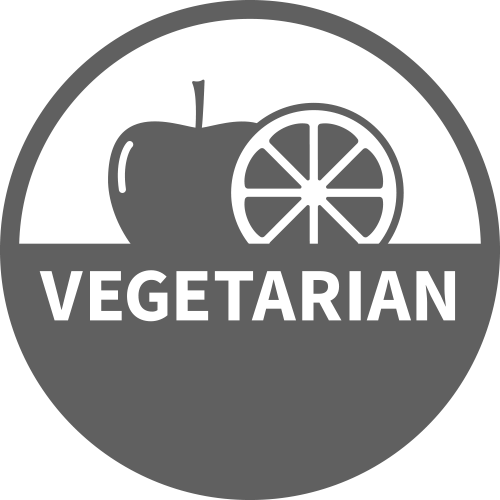 Serves:
From: Spark People

Salsa Ingredients:
2 navel oranges, separated and cut into small pieces
1 large tomato, cored and diced finely
1 scallion, sliced thin
1 tbsp fresh basil, minced
1 garlic clove, minced
1 tbsp fresh lime juice
2 tsp olive oil
1 small jalapeno pepper seeded and minced (omit if you want a milder salsa)
1 dash salt
Bean Cake Ingredients:
4 cups cooked black beans, rinsed and drained if canned
2 eggs
1/2 cup bread crumbs
1 tbsp olive oil, plus oil for greasing pan
1 medium onion, diced finely
2 garlic cloves, minced
1 celery rib, sliced thin
1 tsp ground cumin
1/4 tsp salt
Liberal seasoning of freshly ground pepper

Directions:

Combine all the salsa ingredients in a bowl. Let sit for at least 1 hour.
Place 3 cups of the black beans in a large bowl. Process the remaining cup of beans with the eggs until smooth. Stir this mixture into the whole beans along with the bread crumbs.
Heat the oil in a medium skillet over medium heat. Add the onion, garlic, and celery and saute until very tender and beginning to brown. Sprinkle on the cumin and cook 1 more minute.
Scrape the vegetables into the bean mixture and add the salt and pepper. Stir to mix well.
Preheat oven to 375 degrees. Lightly oil a baking sheet.
Using a 1/3 cup measuring cup, scoop up 12 portions of the bean mixture and place on the baking sheet.
Flatten out with the scoop or your hand.
Bake 10 minutes, flip and bake 10 more minutes. Serve the bean cakes with a spoonful of salsa on each.
* Note, the cakes can be made in a lightly oiled skillet or pancake griddle. Serves 6.
More Vegetarian Recipes...