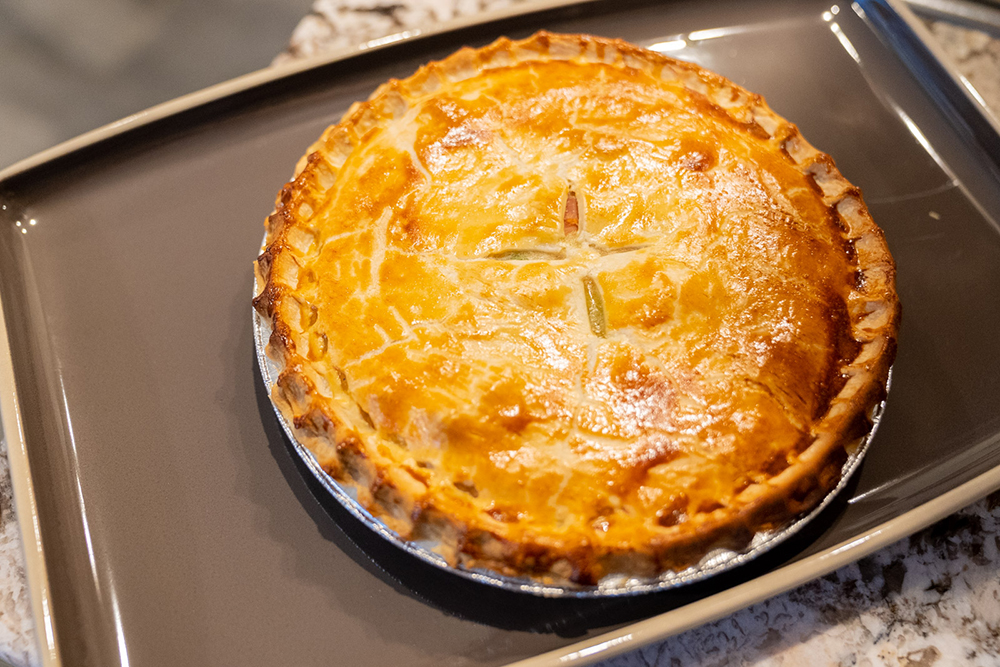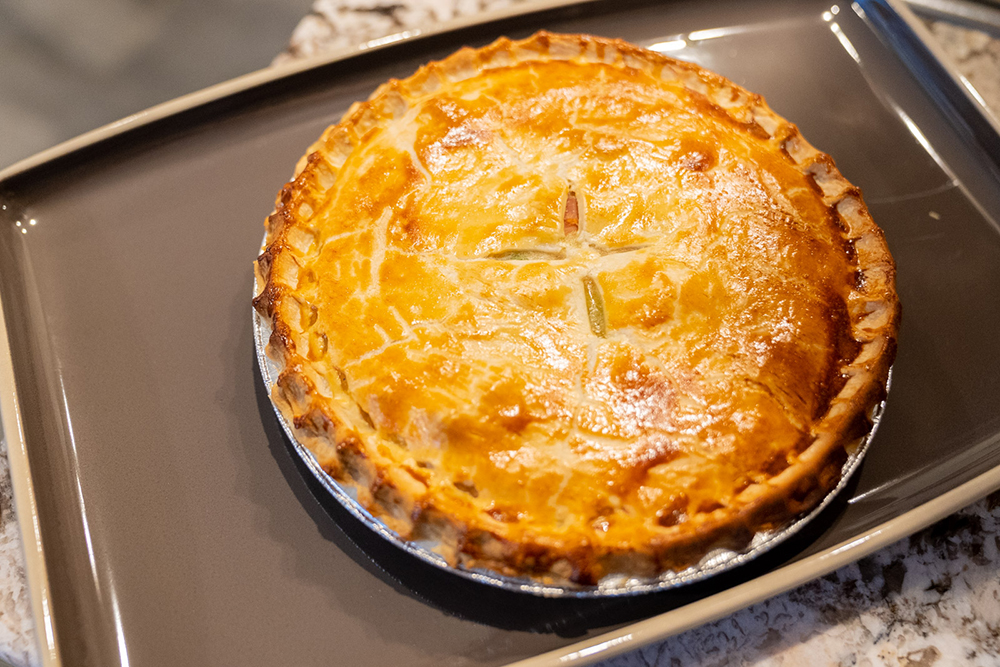 Simple Chicken Pot Pie
Serves:
12
Recipe By: Jessica Shickel
Adapted From: Southern Living's Curried Chicken Pot
Makes 2 full pies, 12 servings
Ingredients:
8 Tbsp unsalted butter
2 cups of carrots, chopped
2 medium-sized yellow onions, chopped
1 cup of celery, chopped
2 tsp salt
Fresh pepper
1/2 cup of flour
2 Tbsp oil
6 chicken thighs, raw; diced into bite size pieces
4 cups of chicken broth
1.5 cups of green peas, frozen
2 pkgs of pie crusts, refrigerated
1 large egg, lightly beaten

Directions:
Melt butter in a dutch oven or stock pot over medium heat. Add onion, carrots, celery and cook until soft, stirring occasionally (5-8 minutes). Add salt and fresh pepper. Stir in flour, stirring constantly and cook for about 1-2 minutes (or until all veggies are coated and you smell a nice nutty flavor). Add chicken broth and let simmer on medium heat.
In a large skillet over medium heat, add oil (I prefer avocado) and once the oil is hot, add the diced chicken. Season with salt and pepper (I love Tender's "The Blend"). Once the chicken is fully cooked, add the chicken to the dutch oven with the veggie broth.
Bring the heat up to a slow boil, stir occasionally and cook until the broth is thickened to your liking. Stir in the green peas. Remove from heat and let cool.
Prepare the pie crusts: remove from the package, roll them out if necessary to fit in your pie dish. If time allows, cut into strips and lattice the top of the pie crust.
Spoon the pie filling into the pie crusts. Cover the pie filling with the top layer of pie crust, crimp the edges of the two layers of pie crust together, and cut a few vent holes if not using the lattice method.
If cooking the chicken pot pies now: brush the top with the beaten egg. Bake at 375 degrees for 45-55 minutes or until golden brown. Be sure to place a baking sheet under the pies in case they overflow. If freezing them to cook later: wrap the entire pie in plastic wrap and then cover with aluminum foil. Thaw in the fridge for 24 hours and then cook.
If you have leftover filling, cool it safely in the fridge and later on: reheat and serve it over pasta (add some pasta water if it gets too thick).
More Main Dishes Recipes...