Cheesy Chicken and Black Bean Enchiladas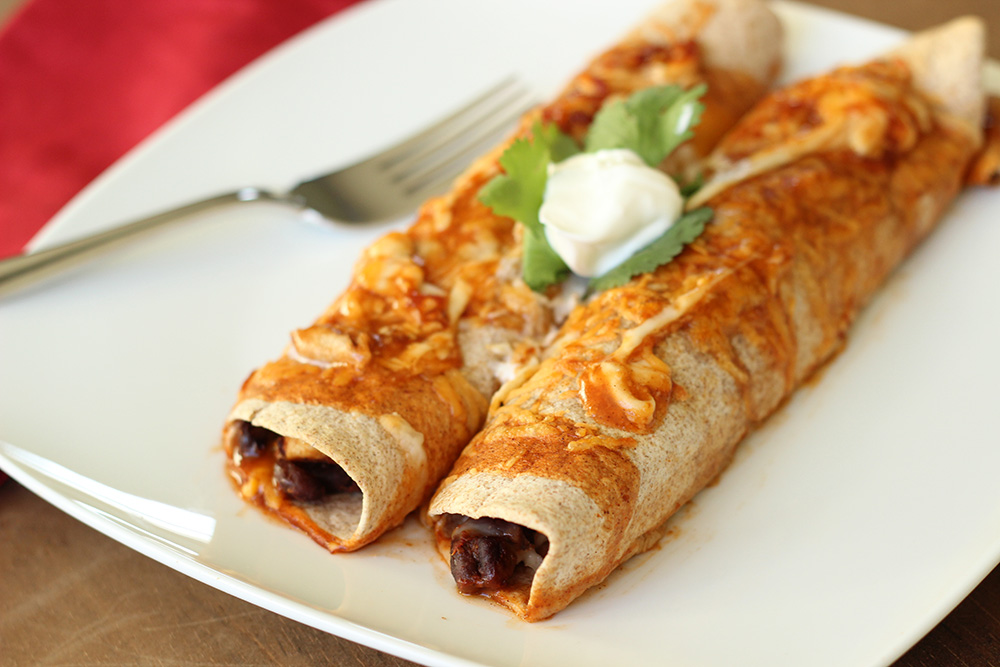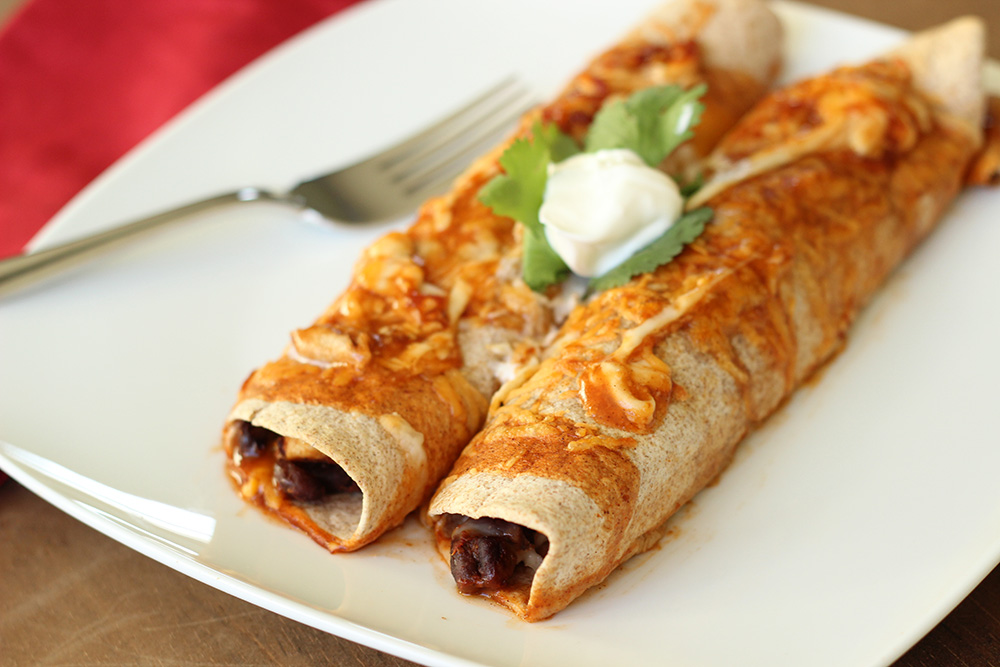 Cheesy Chicken and Black Bean Enchiladas
Serves:
4 to 6
From: Thriving Home
Ingredients:
2 teaspoons olive oil
1/4 cup chopped onion
2 cloves garlic, minced
1 pound boneless, skinless chicken breasts, cut into 1-inch pieces
1 (15-ounce) can black beans, rinsed and drained
1 (4-ounce) can diced green chiles
1/3 cup prepared salsa, mild, medium or hot
homemade taco seasoning (see recipe below)
1/2-1 cup red enchilada sauce
4-6 (8-inch) whole wheat tortillas
1 1/3 cups shredded Monterey Jack and or Cheddar cheese
Directions:
Preheat oven to 400 degrees F. Coat a 9x9 casserole dish with cooking spray.
Heat oil in a large skillet over medium heat. Add onion and garlic and saute 2 minutes. Add chicken and saute 5 minutes, until golden brown and cooked through. Add taco seasonings to the meat mixture.
Stir in black beans, green chiles, and salsa and simmer 5 minutes, until sauce thickens and reduces.
Put half of the enchilada sauce on the bottom of a 9x9 casserole dish. Arrange 4-6 tortillas on a flat surface. Top each tortilla with an equal amount of chicken/bean mixture and 1-2 tablespoons cheese. Roll up tortillas and place side by side in a shallow baking dish. Add remaining enchilada sauce to the top. Then, top tortillas with remaining shredded cheese.
Bake enchiladas 15 minutes, until cheese is golden.
Freezing Instructions:
Freeze these before baking and be sure to thaw out completely in the refrigerator before cooking- 6 to 8 hours or overnight.
Homemade Taco Seasoning Recipe
Ingredients:
1 1/2 teaspoon chili powder
1/4 teaspoon garlic powder
1/4 teaspoon onion powder
1/4 teaspoon crushed red pepper flakes
1/4 teaspoon dried oregano
1/4 teaspoon paprika
1 teaspoon ground cumin
1/2 teaspoon sea salt
1/2 teaspoon black pepper
Directions:
Combine the ingredients and use according to your taste in the enchilada recipe.
More Main Dishes Recipes...