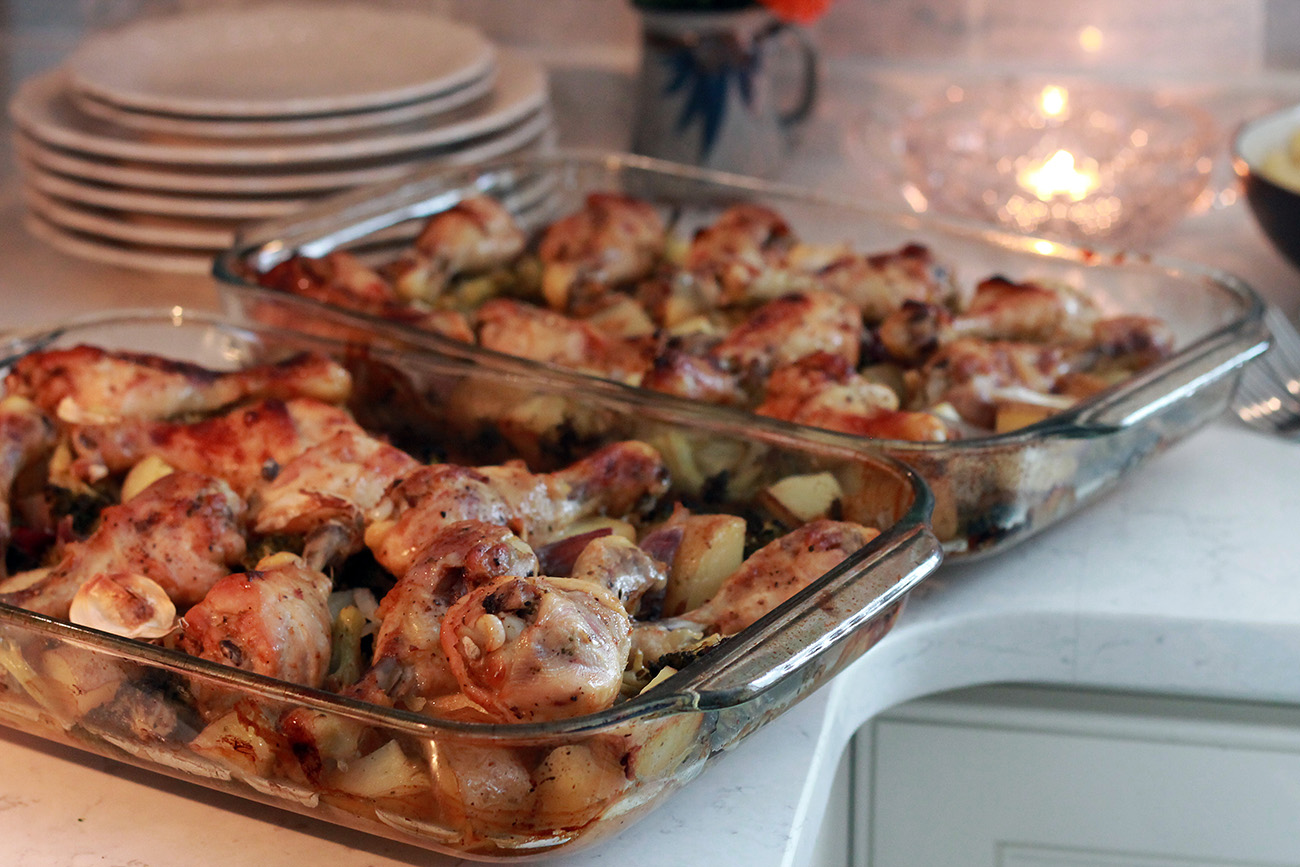 Our Favorite One-Pan Meal Ideas to Save You Time
As a busy mom, I appreciate meals that don't require loads of effort (or dishes). Last night, I prepared a one-pan meal and doubled my recipe, so there were leftovers for lunch the next day. This could have just as easily been an additional meal to take to a friend. One-pan recipes are generally easy to double, minimize dishes, and are easy to transport.
When grocery shopping, I often check the meat section first for sales and discounts. Then, I adjust my grocery list to include ingredients for meals using those meats. Yesterday, I found chicken drumsticks for less than $4 a pound and I remembered I could make an easy meal by roasting them together with broccoli, onions, and potatoes. Another benefit of one-pan meals is they are generally easy recipes to remember.
To make my one-pan roasted chicken drumsticks, I chopped the broccoli and potatoes, tossing them together with olive oil, sea salt and black pepper. I divided the vegetables between two 9 x13 casserole dishes. Next, I tossed the drumsticks in honey, barbeque sauce, salt, and pepper and layered them on top of the vegetables. Last, I added chopped red onion and crushed garlic over the top. Cover the dish in aluminum foil. Roast at 350 degrees for 1.5 hours and then remove the foil for 30 more minutes to "brown" the chicken.
My kids gobbled this meal up (even the broccoli!) and went back for seconds and thirds! My youngest said, "This is the best chicken!" Leo, my oldest son, said he was going to request this meal as his birthday dinner. I loved that all I had to do was prepare the vegetables and meat then let the oven do the rest of the work. A side dish isn't necessary with a one-pan meal, but I cooked spiral noodles and tossed them with a delicious
lemon butter sauce
.
If you're taking a meal to a family with children and are looking for something that will be a crowd pleaser, this meal would be a great option! There is easily enough to feed your own family and someone else's by doubling the recipe.
If you're someone who doesn't like to "wing it" like I did with my recipe, here are 7 more one-pan meal recipes to save you time in the future (some are Take Them a Meal favorites!):
The next time you find you are taking a meal consider taking a one-pan meal! Do you have a favorite one-pan recipe you follow or do you "wing it" like me at times? I'd love to know!
Read other recent blog posts: