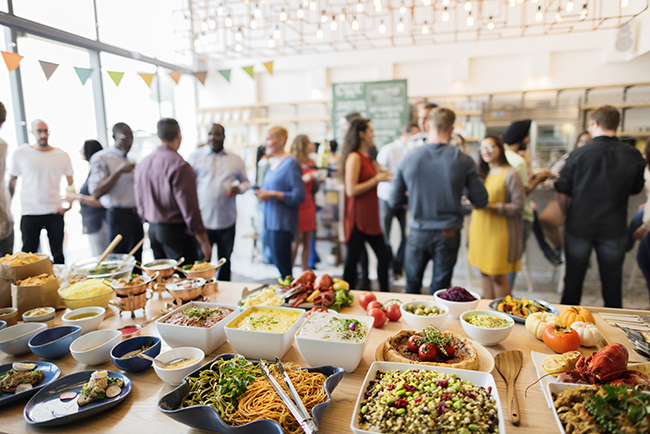 12 Perfect Potluck Themes to Share with Friends
Do you need some inspiration for planning your monthly potluck? Here are 12 themes to add some energy and excitement to your next gathering. The themes are specially selected for your office or organization to perfectly plan out the year.
1. Welcome fall
Most of us can't wait for the leaves to change or for a pumpkin spice latte or for a slice of apple pie. Bring the love of fall to your next potluck. Challenge those participating to use fall ingredients such as apples, cabbage, broccoli, carrots, pears, pumpkins and sweet potatoes. Gather some fall leaves and acorns for simple decorations.
2. Baked potato bar
A baked potato bar is a classic group meal go-to. It's easy, economical and enjoyable since potluck participants can choose their favorite toppings. For an even heartier baked potato bar be sure to include a pot of chili. As a bonus ask each guest to bring a gourmet topping to spice up the fun.
3. Family heritage meal
Celebrate your ancestors and your heritage with a special meal. Ask each meal participant to bring a dish that reflects his or her family heritage. You might be amazed at the variety of dishes to sample as well as the stories and sharing it encourages around the table.
4. Soup cook-off competition
Who doesn't enjoy a little office rivalry? To break up the doldrums of winter, heat up the office potluck with a friendly competition to discover who deserves the best soup bragging rights. Add a few sandwich trays and desserts and you have a winning office potluck.
5. Favorite comfort food
We all have those dishes we associate with childhood and instill in us a sense of comfort. The dishes may make us fondly remember someone special or a specific culture. Mashed potatoes and gravy, macaroni and cheese, chicken noodle soup and apple pie come to mind. January and February are often the coldest, so bring on the comfort.
6. Mexican fiesta
Who doesn't like Mexican food? It's versatile from make your own taco bar to trays of steaming enchiladas to rice bowls. Participants can layer on their toppings of choice and customize their spice level with a variety of toppings on hand. Don't forget the guacamole, often a crowd-pleaser! Listen to some mariachi music and end the meal with a sugar-sprinkled churro.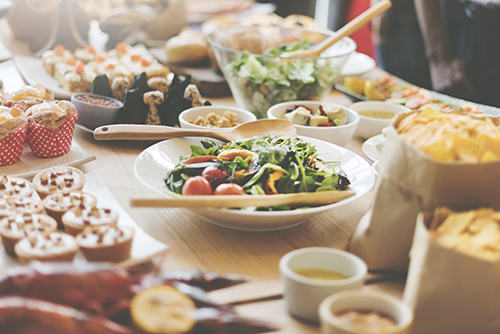 7. Favorite finger foods
Finger foods are still enjoyed by grown-ups. With only one simple rule (no silverware) be creative in what you bring. This potluck can be simple, no-fuss and high on the crowd-pleasing chart. It's known to be a favorite theme among my friends.
8. Brunch or brinner
Who doesn't like breakfast for lunch or dinner? Kids as well as grownups often love this potluck theme. Think of favorites such as biscuits and gravy, breakfast casseroles, and fruit trays all the way to shrimp and grits and Belgium waffles with a topping bar.
9. Wish I were there travel favorites
Reflect on your travels and the foods that made your trip memorable. Ask meal participants to recreate a favorite dish from one of their past vacations. This theme would be especially great for groups getting to know one another as it easily provides an engaging conversation starter.
10. Farmers market or gardeners delight
Invite participants to bring dishes locally sourced from the farmers market or ingredients from their garden. Think fresh, local and bursting with flavor. Summertime is a favorite for juicy tomatoes, fresh herbs, and corn on the cob and mint tea around our house. A strawberry shortcake or homemade peach cobbler would certainly make the gathering a little sweeter too!
11. County fair food
It wouldn't be summer without the county fair and all the food vendors that go along with it. Funnel cakes to catfish and rib-eye sandwiches to chicken BBQ to sweet corn and caramel apples are a few of the fair staples around here. Bring the fair food theme to your next potluck and watch participants have fun creating their fair favorites.
12. Tailgate game day
Get the grill going and pretend it's a big football game day. Ask participants to bring traditional tailgate favorites such as a grilled entree or BBQ sliders, meatballs, nachos, veggies and dip and bar cookies. This is one tailgate where you get to skip the crowded parking and the game!
Potlucks provide fellowship and form friendships and most of all encourage us to connect with those over a shared meal. Connecting with others strengthens our community. So pick a theme and invite your friends and gather around some delicious food!
Read other recent blog posts: