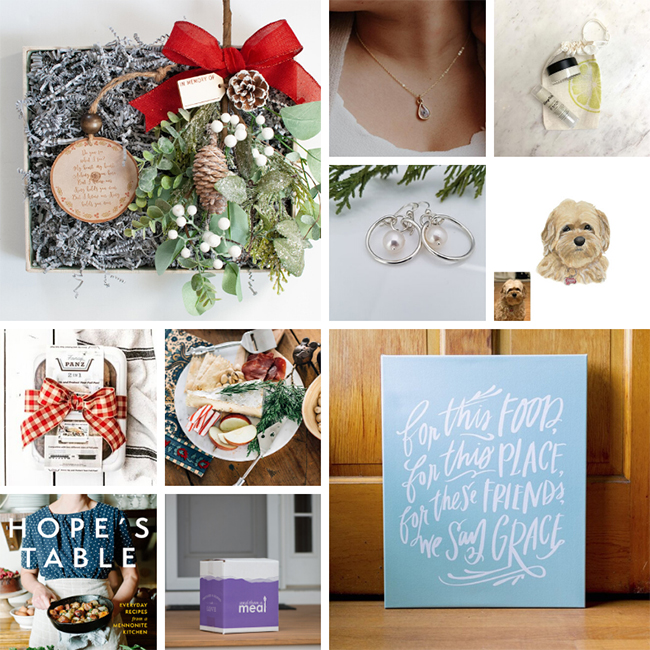 Our 10 Favorite Gifts of 2019
As always, our team has put a lot of thought into our holiday collection of gift ideas. We adore the following products from various small businesses (and think you will too).
Hopefully, these ideas make your holiday shopping a little easier and brighten the lives of your friends and family this special season.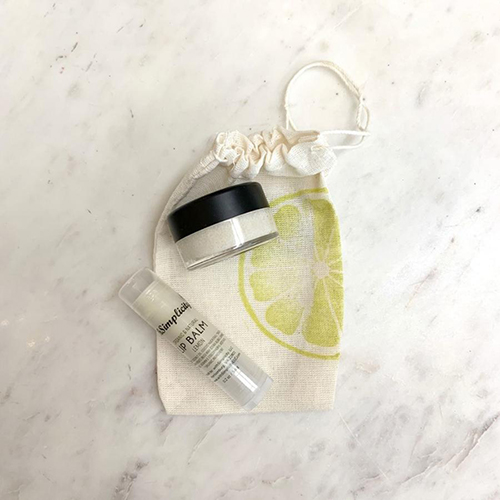 10.
Lemon-Love Lip Gift Set
($8) -This organic lip balm and scrub is perfect for a stocking stuffer, or as a gift for a teacher or someone who needs cheer. This is my new favorite for a
sunshine box
. Beauty products created by withSimplicity are organic and toxin free. Lip balms and scrubs also come in flavors like coconut cream, orange, peppermint, lemonade and rose petal.
9.
Fancy Panz
($19.99) - This convenient, decorative pan will change how you potluck, party and picnic. A disposable foil pan fits inside the container and makes transport, serving and cleanup a snap. The pans are stackable and sturdy, USA made and come in a variety of colors. The winter green and red pans are perfect for simplifying the holidays.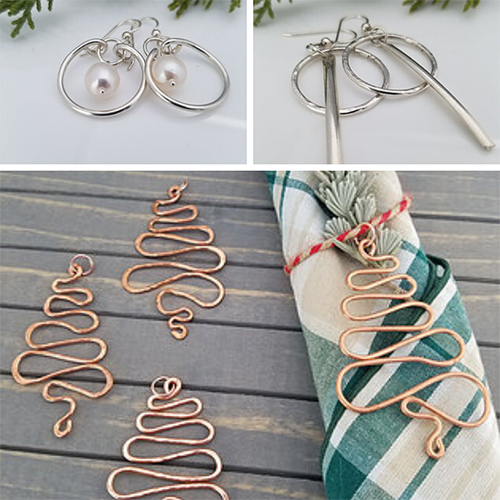 8.
Freshwater Pearl Drop Hoops
($38) - These handmade earrings by artisan Anna Hudick are a lovely gift option. The earrings are sterling silver, lightweight and a timeless style. I receive compliments when I wear her jewelry. Another favorite is the
sterling silver hoops
.
Also, don't miss these
hand forged copper trees
to decorate gift boxes or holiday place settings, use as ornaments or wear as a necklace. Enter the word 'Holiday' at checkout to receive the sixth copper tree free on five trees purchased (until Dec. 14).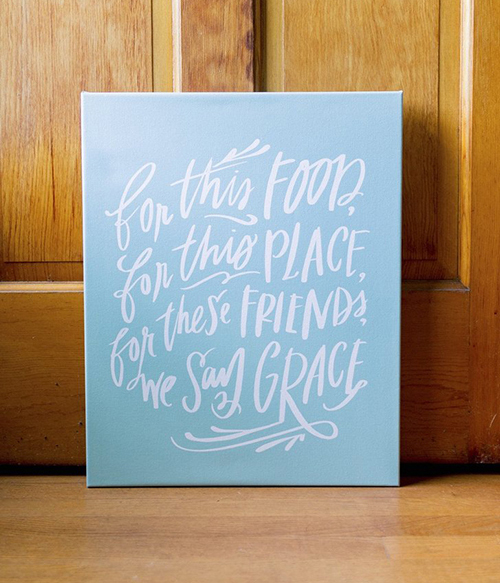 7.
We Say Grace
(price varies by size) - Lindsay Sherbondy and her team at Lindsay Letters create meaningful art to share with others. This is a lovely gift for anyone who appreciates food, faith and friendship around the table. This canvas would look adorable in the kitchen or dining room all year long and the background color is customizable.
Lindsay's daughter, Eva Love, is in rehabilitation after a traumatic brain injury. The team has a
special collection
in honor of Eva Love that is especially near to their hearts this season.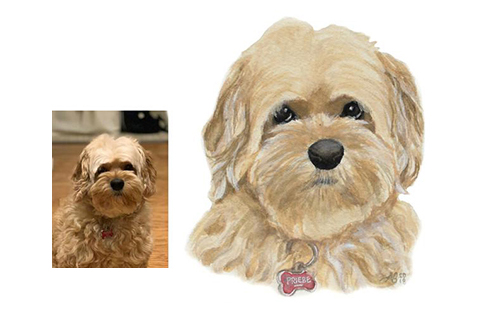 6.
Personalized Pet Portrait
($60) - Our team certainly loves our pets and considers them family. This would be the perfect gift for any pet lover, especially as a memorial for someone who is grieving the loss of a pet. Talented artist Allison Beery turns your photo into an 8x10 painting. Allison is the daughter of Rachel Beery whose friendship with Adina inspired the creation of TakeThemAMeal.com.
AND Rachel has another daughter, Megan, who creates fun snail mail kits. Check out this festive
Christmas Snail Mail Kit
to brighten your letter writing!
5.
Hope's Table: Everyday Recipes from a Mennonite Kitchen
(Retail $28.99) - Those who love to make a home-cooked meal will appreciate this collection of everyday recipes. Traditions of home, hospitality and gathering around the table, plus practical kitchen tips, are included. For your friends or family who love food and photography, this would be a welcome gift. If you need recipe ideas to take someone a meal, this cookbook won't disappoint.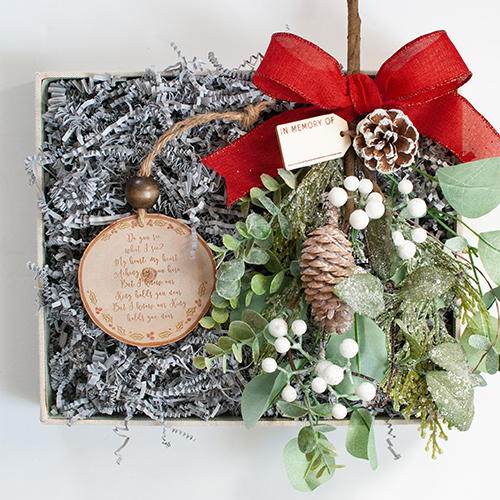 4.
Do You See What I See
($40) - Acknowledge someone's loss this holiday season with this curated ornament gift from laurelbox. The box includes a wooden, hand-painted ornament with a twist on a well-loved carol. The set also includes a teardrop swag to use in memory of a loved one. Laurelbox has unique, heartfelt gifts to help you support friends through a loss.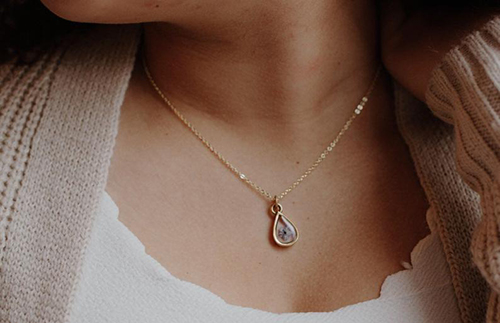 3.
Forget Me Not Necklace
($28.00) - The Seed & Soil shop on Etsy features handmade botanical and faith inspired jewelry. Artist Whitney Pope creates these special pieces that make thoughtful gifts. The forget-me-not flower symbolizes faithful love, memories and lasting friendship. The shop also has unique mustard seed necklaces that would be perfect to encourage someone going through a hard situation (one was given to Maureen before John's surgery this summer).
2.
Marble & Wood Cutting Board
($34.99) - Perfect for your foodie friends. This cutting board is handcrafted in India. It is not only functional, but a beautiful display piece that would be perfect for an antipasto platter or cheese board. Check out the other gift options at
Ten Thousand Villages
. Its mission is to create opportunities for artisans in developing countries to earn income by bringing their products to market through fair trade relationships.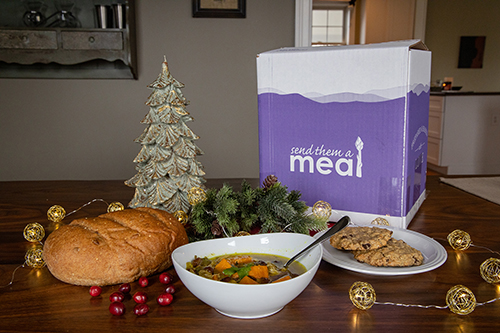 1.
SendThemAMeal.com Gift Card
($75) - Send a friend what they really want. We offer gift cards where the meal recipient selects the meal. We take the guesswork out of the decision and the meal is hand-delivered to their door! The meal recipient also gets to decide when the meal will be most helpful by selecting a delivery date of their choice. A meal delivered to a friend is a true gift.
Our team at TakeThemAMeal.com is truly blessed to interact and share with you all year long. Thank you for consistently showing hospitality to others by bringing a meal when it is needed.
Happy Holidays!
Adina, Melissa, Maureen, Lindsey, Jamie & Scott
--
Read other recent blog posts: