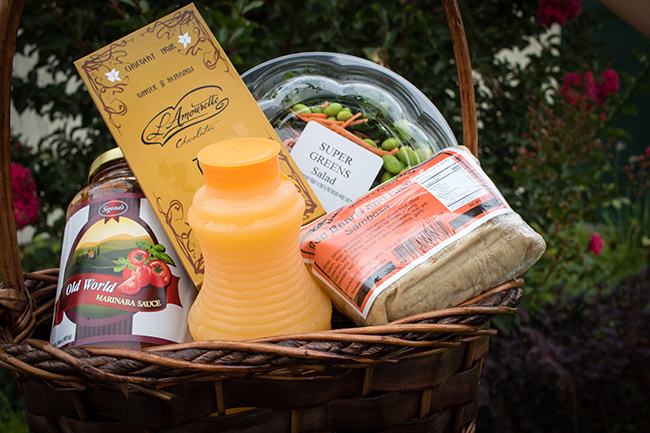 What Funeral Food is Most Appreciated
Even when a loved one has lived a full life, loss is overwhelming. Our family recently faced the death of my husband's grandfather. He was a joyful man who lived in good health for over 98 years. Our family gathered from near and far to honor him over the course of a week.
When a grieving family has come together for a funeral and is staying in one location, food is extremely helpful. If you want to be a good friend, neighbor, or acquaintance, figure out a helpful way to care for the family with food during the days around the funeral.
After our recent family funeral, I asked my in-laws what food gestures were most meaningful to them. Mostly, I was curious for myself because I want to know how to help my own friends and neighbors when they are faced with a similar situation. My mother-in-law typically enjoys preparing food for her visiting family, but when the departed loved one was her father, she was grateful for the food that came in during those days.
My family mentioned a few meaningful ways that friends and neighbors helped with food during the week of the funeral:
1. Bring the family food that is easy to store and serve
Having food on hand that you can easily grab from the fridge is a huge help. One neighbor stopped by with brownies and fruit. Another brought by strawberry bread. Personally, I have a favorite muffin recipe (
Pumpkin Chocolate Chip Muffins
) that I like to take to my friends during these times. Frozen dishes can be helpful as well because the family can prepare them as needed or when other items start to run out.
2. Make sure the family has a meal for the evening after the funeral
My in-laws neighbor, Rosemary, asked what day everyone would be attending the funeral and she made certain there was a meal at the house that the family could enjoy that evening. Because she was a close neighbor, she had a key and the meal was waiting on the counter for our family. Spiral sliced ham, rolls, cold salads, and the works were available when dinner time arrived.
3. Offer to drop off a breakfast casserole
Having food for the morning in a huge help as well. Not everyone is sleeping well away from home and the hosts have had other things on their minds. A breakfast casserole is ideal because it can be easily warmed and served throughout the morning. This is one of our favorite casseroles from our site -
Gluten Free Breakfast Bake
4. Bring comfort food
Certainly you know the family you are serving better than I do, so you should do what suits them best, but as a general rule, people who are grieving like foods that are easy to digest and go down smoothly. My in-laws were particularly thankful for a pan of
macaroni and cheese
that someone brought over as well as some
chicken noodle soup
. These also tend to be foods that feed a larger group well and are appreciated by children.
5. Drop off paper plates, napkins, cups, and utensils
If there ever was a time to take advantage of the convenience of disposable items, this is the time. These items allow the family to spend time together without the hassle of cleaning up the dishes after every meal. This is a great option if you want to be helpful, but you don't want to cook. Other helpful items to consider are garbage bags, toilet paper, paper towels, and disposable containers for leftovers. Consider dropping a bag of these items on the porch with a note of sympathy.
6. Place a cooler full of beverages in the garage
Deliver a chest full of ice and a variety of drinks to the family home. This opens up additional refrigerator space and ensures the family has plenty to drink. Supplying extra cases of bottled water, juice, and soft drinks can be helpful as well for restocking the cooler later.
7. Do something
No matter the circumstances, death is a heartbreaking time for a family. Even when the loved one has lived a full life, the loss is painful. In some meaningful way, let the family know that you're thinking of them. A note, a text, a kind word when you see them outside or other offers to help are extremely appreciated.
--
Read other recent blog posts: