Tis the Season for Asparagus and Family Memories
MAY 15, 2018 / LINDSEY SHANTZ /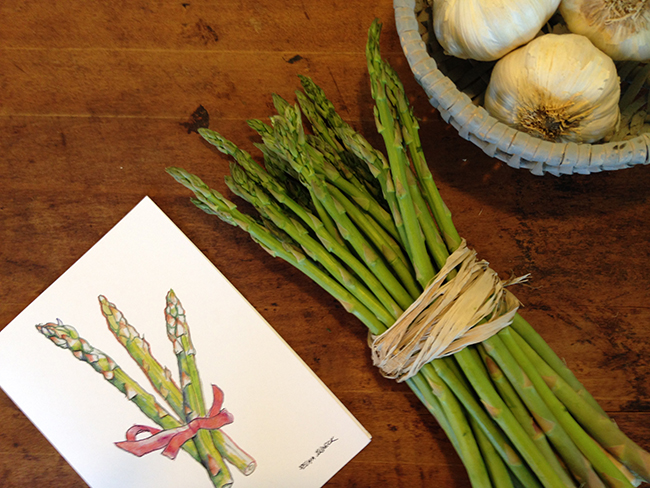 If you haven't noticed, we are quite fond of asparagus at TakeThemAMeal.com. In fact, we like it so much the 'L' in our logo is an asparagus spear. Adina is talented at finding the most chic asparagus items - a Swedish dishcloth with an asparagus print, a glass asparagus Polish handcrafted and painted ornament and a trio of cotton dish towels with an asparagus print. The items go perfectly in my 1890's farmhouse.
It is ironic how asparagus is tied to some of my favorite childhood memories --- around my Grandma Blosser's kitchen table. Who knew then I would work for this website. Life has a way of coming full circle sometimes in ways we could not anticipate or expect.
I am more so reminded of this since my much-loved 94-year-old Mennonite grandma passed away in March (Mabellee Shank Blosser, 1924 to 2018). As a child, my grandparents built a home overlooking the family dairy farm. It was a simple walk through the fields to go to grandma's house, or a ride from the farm on the back of my grandpa's pickup truck.
What food makes you think of your grandma and gathering around her kitchen table? My grandparents had a huge garden. I most remember the bright red juicy tomatoes and her vintage salt and peppershaker on their table (which my twin brother still has). One cousin commented it was a rule homemade pie or cake always went in a bowl with fresh farm milk poured on top. Another cousin fondly remembered eating watermelon on the porch with the juice dripping down in late summer. My grandma's Creamed Asparagus recipe with fresh milk and butter from the farm was always a favorite memory of mine.
I'm not sure all kids love asparagus but we sure did. Now, my son and daughter and their cousins are growing up loving my mom's Balsamic Asparagus. The generations and growing seasons and family gatherings go on. It's another generation's turn to walk to grandma's house. My kids will have memories of their grandma's asparagus recipe for Christmas brunch and Easter.
From our family farm to your home, I'm delighted to share two asparagus recipes with you. Enjoy and Happy Spring!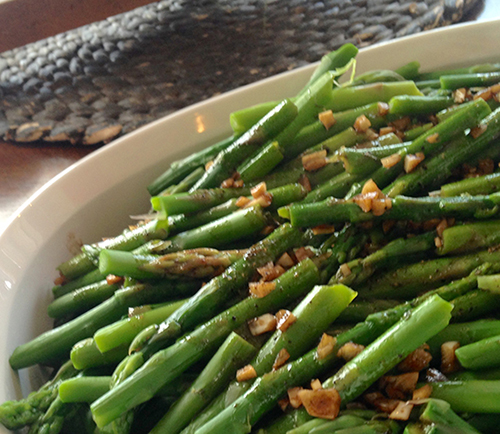 Balsamic Asparagus
1 cup water
1 pound fresh asparagus, trimmed
2 tablespoons balsamic vinegar
1 tablespoon butter, melted
1 to 2 teaspoons minced garlic to taste
1/4 teaspoon salt
1/4 teaspoon pepper
In a large skillet, bring water to a boil. Add asparagus; cover and cook for 2-4 minutes or until crisp- tender. In a small bowl, combine the vinegar, butter, garlic, salt and pepper. Drain asparagus; drizzle with balsamic mixture. Yield: 4 servings.
I recommend using the Costco Kirkland Aged Balsamic Vinegar or if you like specialty vinegars check out the Outer Banks Olive Oil Co. Our friends have a house near the beach and it's one of their favorite stops. They brought us back the Espresso Balsamic Vinegar to try.
This recipe was adapted and shared from my mom's cookbook collection, 'Taste of Home Simple and Delicious.'
Creamed Asparagus
1 pound asparagus, cut into 3/4-inch pieces
Cook asparagus in small amount of water until just tender, 10-12 minutes. Drain and set aside.
4 tablespoons butter
4 tablespoons flour
2 cups milk (or make it richer with half and half or cream)
Melt butter in frypan over medium heat. Stir in flour until smooth. Gradually add milk, stirring constantly until smooth. Cook over medium heat, stirring occasionally, until mixture thickens. Stir in asparagus; season with salt and pepper to taste. Serve as a side dish or also serve over buttered toast or in omelets or popovers.
This recipe was adapted and shared from my cookbook collection, 'Simply in Season' by Mary Beth Lind and Cathleen Hockman-Wert.
I'm pretty sure my grandma never used a recipe or measured any ingredients when she made the cream sauce for the asparagus. She used lots of fresh farm milk and butter and salt. I wish I could still ask her some questions now.
Read other recent articles by Lindsey Shantz: