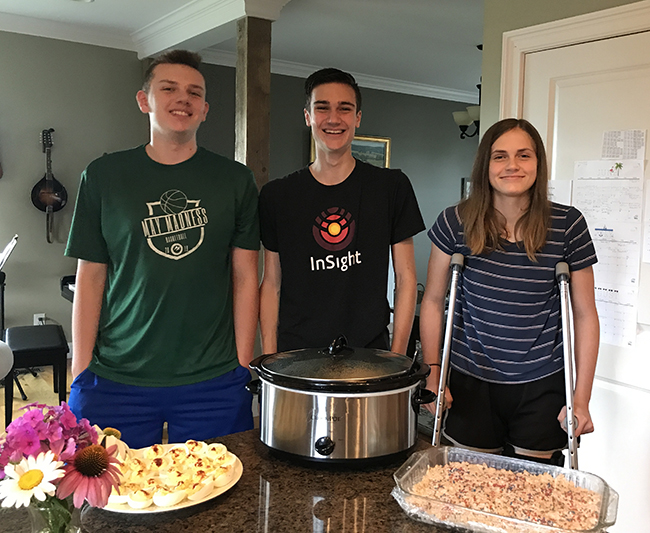 The Perfect Time to Teach Kids to Cook
I hope you're having a pleasant summer! We're enjoying the break from school, but it's been a bit of an infirmary around here due to some sports-related injuries. Hikes and basketball games have been replaced with movies and reading. For the most part, I think I've convinced my kids to enjoy the slower pace while they heal.
This summer, I've realized that I haven't done the best job at teaching my children to cook (especially my boys). They can make a few things in the kitchen, but I haven't taught them how to gather ingredients and follow a recipe. Even when time allows, I often prepare their food myself.
This past year, I realized that the holidays are the perfect time to start teaching kids to cook. They have extra time and they are often motivated to learn how to make their favorite holiday dishes. I appreciate having the one on one time with my kids in the kitchen.
I started this tradition of teaching my kids to cook their favorite recipes last Thanksgiving and my kids liked it so much that we included Christmas and Easter too. I love that this way of teaching them to cook has gone well because it means that our favorite holiday recipes will get passed down to the next generation.
On July 4th, they each picked an item they wanted to learn how to make. My eldest adores the
Crockpot Mac and Cheese recipe
on our site. I showed him where to find the recipe and he made it on his own. My other son decided to make Deviled Eggs because he thought they would be easy. If you've ever had the shells stick to the egg, you know this can be far from the truth. If you're looking for a good Deviled Eggs recipe, we like
the one on our site
.
My daughter is recovering from knee surgery, so her choice was simple this go round. She made
Rice Krispies Treats
because she could make the entire recipe sitting down and only needed the microwave.
So far, this technique of teaching my kids to cook during our days off has been a win for us! They genuinely seem to enjoy learning to prepare their favorite foods. If you're traveling for a holiday, I'm sure grandparents, aunts, uncles, or friends might like some help in the kitchen too.
--
Read other recent blog posts: