The Most Important Tip for Your Outdoor Party
JULY 3, 2018 / LINDSEY SHANTZ /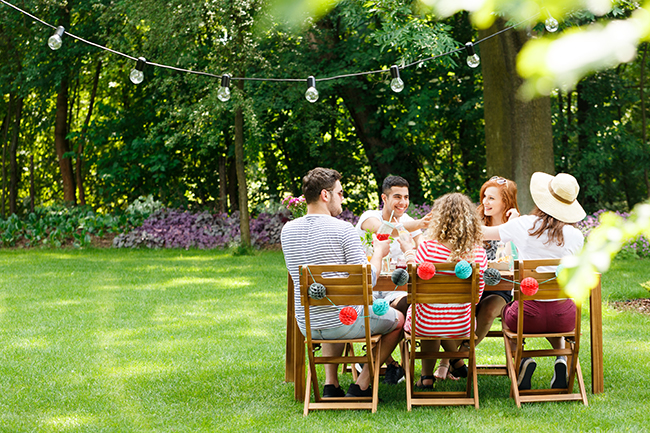 We are definitely in the summer season of backyard BBQ's, scrumptious church picnics and sizzling hot days and of course family reunions too. Numerous details go into making an outdoor event a success!
It's a little more entertaining to get lost in the menu planning details or party theme, thinking of the friends you want to invite or planning the decorations. However, one item really should be at the top of your list. Food safety!
You want your party to be memorable for the right reasons - not a food-related illness. As summer heats up so does the opportunity for bacteria to multiply faster in warmer temperatures.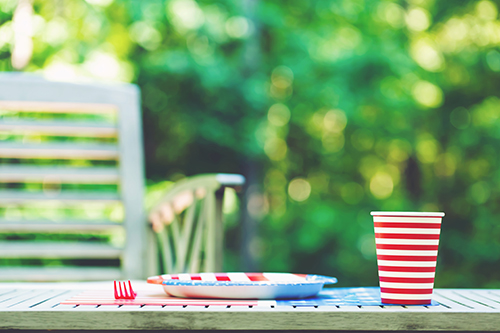 Transporting Food
If you are attending an outdoor event, transport your food in an insulated cooler with ice or frozen packs. A full cooler will maintain the temperature better than a partially filled cooler. Also, remember to place your cooler in the shade and always keep raw meat separate from food that does not require cooking. Another tip is to pack beverages in one cooler and perishable items in a separate cooler. The drink cooler often gets opened more frequently causing the temperature to fluctuate.
As a wedding gift we received a portable Pyrex casserole carrier with a hot/cold pack designed to fit inside the carrying case and keep food either hot or cold as needed. Two kids and almost 17 years later the Pyrex portable carrier is still going to church potlucks, family reunions and get-togethers.
Setting Up
When hosting it is tempting to want to have the food perfectly displayed and ready as guests arrive. However, hold off removing any cold items from the refrigerator or coolers until you are truly ready to eat. Apply the same rule to not placing hot items out until you are ready to serve everyone.
Placing galvanized party tubs full of drinks and some simple appetizers guests can munch on can keep everyone entertained and happy until the meal is served. I would also recommend planning one or two simple kid-friendly appetizers if kids are invited.
Just because you are outside doesn't mean you should skip the step of washing hands before eating. While soap and running water are ideal, if that is not an option set up a hand sanitizer station.
Select the right recipe
If you need some inspiration and outdoor-friendly picnic recipes try my favorite
Fruit Salad
recipe. I have a large mint patch growing in my background that takes this fruit salad from good to amazing with the addition of the fresh mint leaves. Another side dish that is perfect for outdoor entertaining is
Fiesta Bean Salad
, especially if you have cherry tomatoes overflowing in your garden.
Give some thought to selecting recipes that will hold up under the summer heat and conditions. It is best to select
outdoor-friendly recipes
that are easy to transport, simple to serve and can withstand the heat.
Know the Facts
If in doubt of the safe minimum cooking temperature for meat, poultry, seafood or other cooked food, refer to a
temperature chart
like this one from FoodSafety.gov to ensure food safety. A food thermometer is also a must have for all households, especially during summer grilling season.
According to the U.S. Food & Drug Administration cold foods should be kept at 40 degrees Fahrenheit or colder and hot foods should be kept at an internal temperature of 140 degrees Fahrenheit or warmer.
The same concern and attention must be given to how long the food remains outside. Set a reminder on your phone prior to the party for when it is time to put the food away. When socializing with friends it's easy to lose track of time.
According to the Center for Disease Control and Prevention refrigerate perishable food within two hours. If outdoor temperature is above 90 degrees Fahrenheit, refrigerate within one hour. Even the simple step of placing a chilled dish on a plate or bowl of ice can lessen the chances of any food-related illnesses.
Discard any perishable food if left outside for more than two hours (or one hour if temperature is above 90 degrees Fahrenheit). If in doubt, throw it out.
Enjoy the outdoor setting
While your party-planning checklist might include a rain date or location, games for the kids and adults, lawn chairs or blankets for outdoor seating and plenty of picnic favorites to go around --- don't forget food safety at your next outdoor party. Make sure food safety is on your checklist!
A few favorites of mine for outdoor entertaining are a galvanized washtub or metal watering trough filled with ice and drinks. I also love the ambiance of string lights hung over the patio, the glow of outdoor citronella candles and watching the kids catch lightning bugs. Most of all, I appreciate the gathering of good friends and family and those summer evenings you don't want to end.
Happy summer entertaining!
Read other recent articles by Lindsey Shantz: