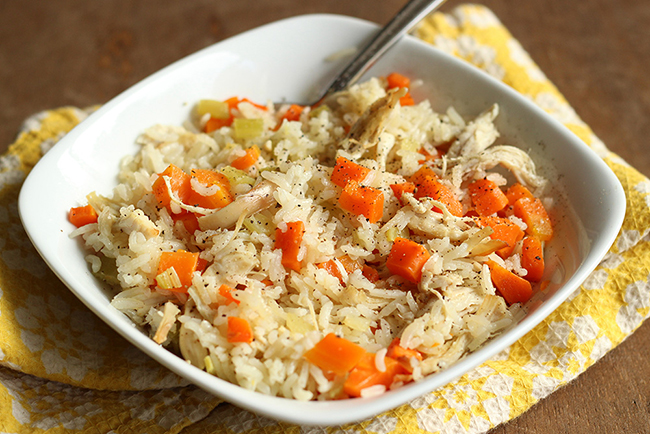 Taking Healthy, Budget-Friendly Meals
Earlier this year, our friend, Lindsey, began working for another company and we have missed her as well as
her blog writing
and excellent customer service. Despite no longer working with us on a day to day basis, she continues to send us helpful resources to pass along to you.
Lindsey recently sent me a site recommendation with healthy and budget-friendly meals that is maintained by The Virginia Family Nutrition program. The
recipe section of this site
has a helpful search feature that allows you to look for recipes based on ingredients you have on hand. As I was scrolling through the recipes, I found one that I plan to make next week that looks perfect for doubling and delivering to a friend. It's the
Southwestern Turkey Casserole
.
One tip that has really helped me with my own meal planning is having a set day every week where I think about what we will eat each night for dinner the following week. I maintain a simple paper list of about thirty meals my family enjoys and I select a week of dinners from the list. Then, I decide what I need to pick up from the store or order the groceries on my phone. If I'm signed up to take a meal that week, I think about a meal that's easy for me to double. That way, I can feed my own family and take the meal to a friend. I also make sure I have the needed containers or I select a meal that works with containers I already have.
In addition to the site Lindsey recommended, one of my go-to sites for taking meals is our own
TakeThemAMeal.com recipe section
. Maureen is one of the best cooks I know (my family will tell you this is true) and she hand-selected most of these recipes from her personal collection or has tested recipes recommended by our faithful TakeThemAMeal.com users. All of the recipes on our site are ones that are easy to transport and Maureen even provides container suggestions. You probably know by now that I love to make
Crock Pot Balsamic Chicken Thighs
(served with roasted broccoli and mashed potatoes), but the
Chicken and Rice Casserole
is delicious too and so comforting.
When the season changes, I'm always inspired to look for new recipes. I hope you find something new too!
--
Read other recent blog posts: