Take Them A Smoothie Kit
MAY 26, 2017 / MAUREEN WITMER /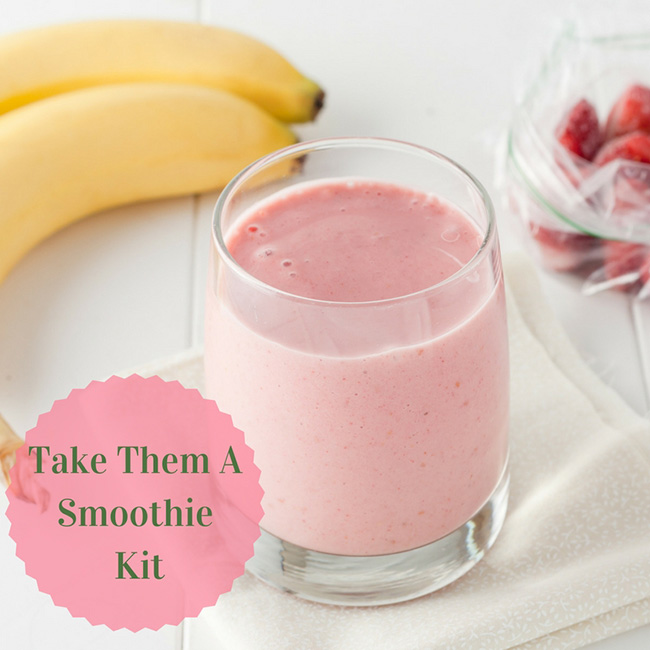 Every night I go to bed thinking about 2 things- my morning coffee and my morning smoothie (don't judge. These aren't the only things I think about!). I am a recent smoothie convert. Breakfast used to consist of the usual cereal or toast but a smoothie is much more satisfying. It keeps me full for hours and I love getting a few servings of fruits and vegetables in before 8am.
Did you know that smoothie kits are a perfect choice to take to someone in need? Here are a few reasons why:
They're easy to make
Easy to transport
Super healthy
Can be enjoyed with one hand (especially helpful for breastfeeding moms)
Can be kept in the freezer and enjoyed whenever is most helpful
Whether you're taking a meal to a tired new mom, a friend who is undergoing cancer treatments, or anyone who enjoys a healthy treat, these kits deliver nutritious whole foods you can feel good about taking.
Smoothie Kit Recipes
Add the pre-measured ingredients to a freezer-friendly quart size bag, write the amount of liquid and/or yogurt to add and you're done! Mix in a blender. Each kit makes 2 servings.
Green Smoothie Kit (Adapted from Real Mom Nutrition)
1 ripe banana, peeled
1 large handful of spinach
1/4 cup frozen or fresh strawberries
1/4 cup frozen or fresh blueberries
*When ready to enjoy, puree with 1 cup of milk (cows, almond or coconut), a handful of ice cubes, and 1/2 cup of plain greek yogurt
Raspberry Peach Smoothie (From Epicurious)
1 cup fresh or frozen raspberries
1 cup fresh or frozen sliced peaches
1/4 cup raspberry sorbet
*When ready to enjoy, puree with 1 cup pineapple juice and cup yogurt
Peanut Butter, Banana and Honey Smoothie (Adapted from Epicurious)
2 ripe bananas, peeled
1/4 cup peanut butter
1 Tablespoon honey
*When ready to enjoy, puree with a dash of vanilla extract, 1 cup of milk (cows, almond or coconut), a few ice cubes, and 1/2 cup plain yogurt
Mixed Berry and Banana Smoothie (From Epicurious)
1 cup fresh or frozen blueberries
1 cup fresh or frozen strawberries
1 ripe banana, sliced
*When ready to enjoy, puree with 1 cup orange juice and 1/2 cup plain yogurt
Read other recent articles by Maureen Witmer: