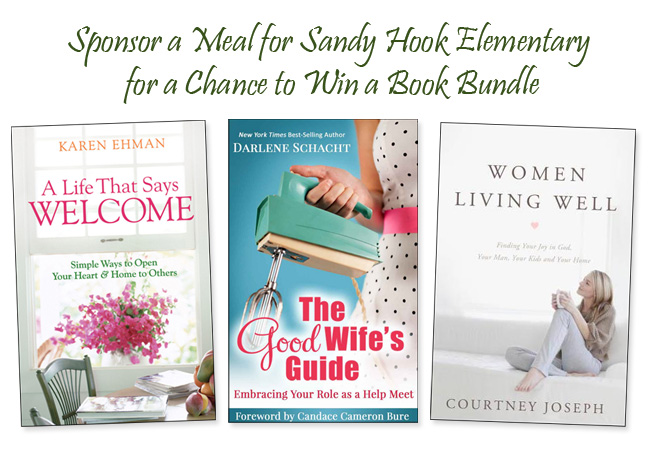 Sponsor a Meal for Sandy Hook Elementary for a Chance to Win a Book Bundle
Thanks to many generous individuals, we have sponsors for almost all of the
meals for Sandy Hook Elementary
. We cannot wait to deliver the meals and encouraging messages!
We are collecting sponsorships until Friday, September 27th. Two authors,
Karen Ehman
and
Courtney Joseph
, have donated books to help us reach our goal. Yesterday, we also received books from
Darlene Schacht
who is a New York TImes best selling author. She added her new book, The Good Wife's Guide, to our book bundles that we're giving away this Thursday.
The part that I love about this giveaway is that I've never met Karen Ehman, Courtney Joseph or Darlene Schacht before (though I hope to soon!). They are friends of a friend, and when they heard about our campaign to take meals to Sandy Hook Elementary School, they sought out a way to support us.
The kindness of Karen, Courtney and Darlene is a snapshot of the generosity that we see daily as we work on TakeThemAMeal.com. Not only do friends help during difficult circumstances, but so do friends of friends, and it's a beautiful sight.

--
Read other recent blog posts: