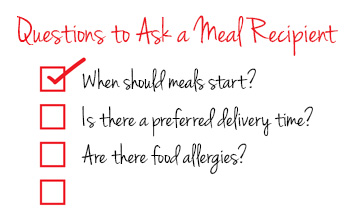 Questions To Ask A Meal Recipient
What can you do when you meet someone who would be helped greatly by a few meals, but you don't know the person well? Maybe it's a new neighbor who is sick, a mom who is new to your mom's group, or someone at your church or office.
Recently, meal coordinator, Kathy Ridgeway, sent us a helpful questionnaire that she uses when setting up meals for families in her church. We liked it so much that we had to share it. Thanks, Kathy!
--
Read other recent blog posts: