Our 9 Favorite Gifts
DECEMBER 2, 2013 / ADINA BAILEY /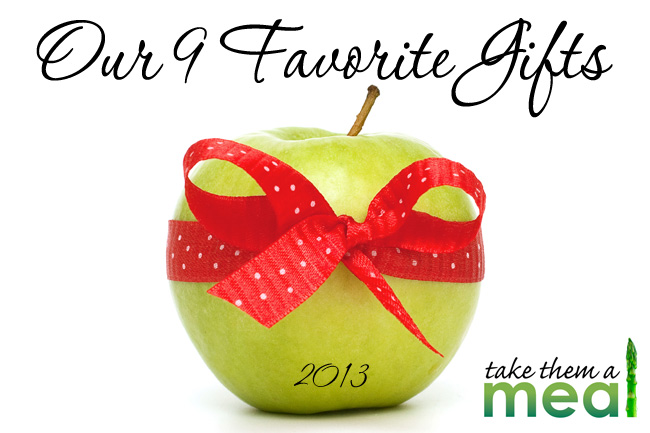 This is our second year of compiling of our favorite gift items for the friends and caregivers in your life. Throughout the year, we encounter many thoughtful gift ideas related to taking meals and receiving meals. Here's a list of gifts that could bring a smile to the nurturers in your life or to a friend who could use use a little extra TLC.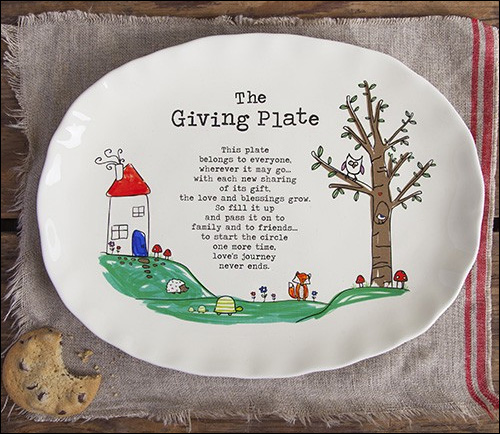 9. The Giving Plate
Nothing is better than a gift that continues giving. Not only will your friend enjoy receiving this gift, but she will enjoy "re-giving" it as well.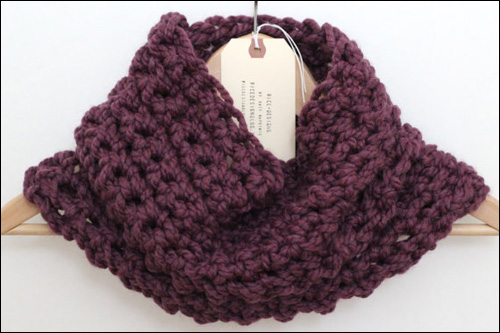 8. Large Chunky Handmade Cowl (Infinity Scarf) - Pick a color!
The beautiful and warm cowls are handmade by our friend and TakeThemAMeal.com Food Photographer, Katy Napotnik. I bought one for myself and I wear it all the time. If you know someone who could use a little warmth this winter, it's the perfect gift.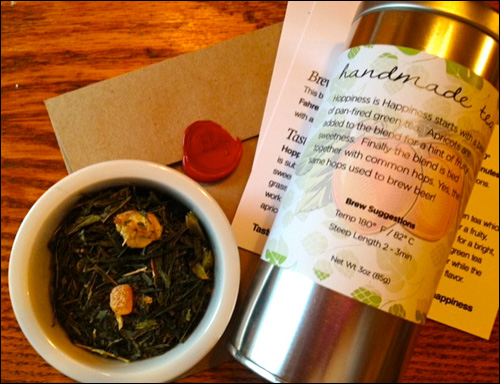 7. Handmade Tea - Monthly Tea Subscription
A brand new, handcrafted tea blend is delivered to your door for as low as $12.95 per month. If you have a tea drinker in your life, this is the perfect gift. Our entire family looks forward to tasting each new tea. Owner, Caleb Brown, creates each unique blend with all-natural herbs, fruits, vegetables, and spices.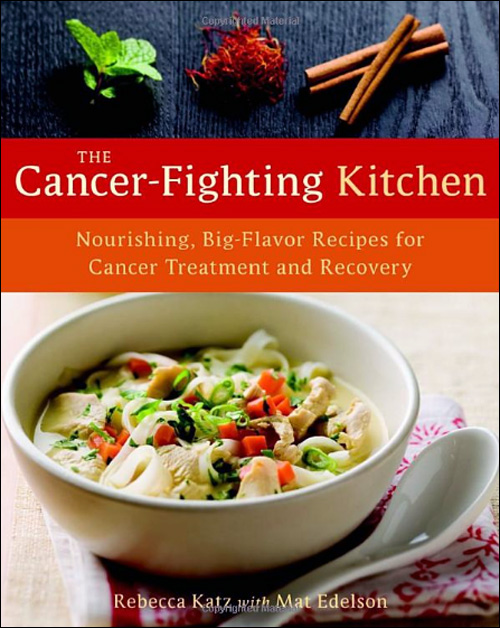 6. The Cancer Fighting Kitchen - Rebecca Katz
Rebecca Katz's cookbook gives caregivers the tools they need to cook for a friend or family member who is dealing with cancer. The ingredients in each recipe are specifically selected to help your friend or loved one thrive during treatment while easing specific side effects.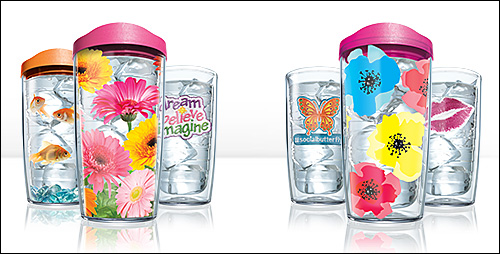 5. Tervis Tumblers
Someone bought these for my children as a gift last Christmas and our entire family now loves these cups. They are furniture-friendly, dishwasher-safe, and insulated, so you don't need to worry about condensation rings forming. A cheerful gift for a friend who is recovering and needs to stay hydrated.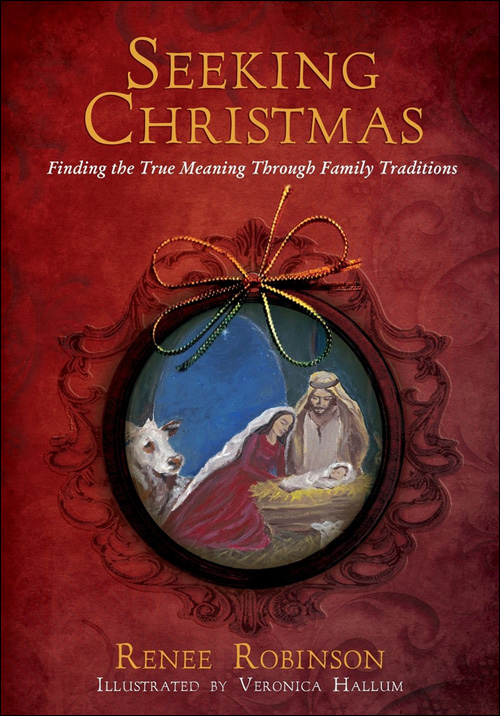 4. Seeking Christmas: Finding the True Meaning Through Family Traditions by Renee Robinson
Renee's book guides you through 7 Christmas devotions with your family that pull you away from hectic days and into peaceful and memorable family moments. A thoughtful gift for your own family and to give to friends.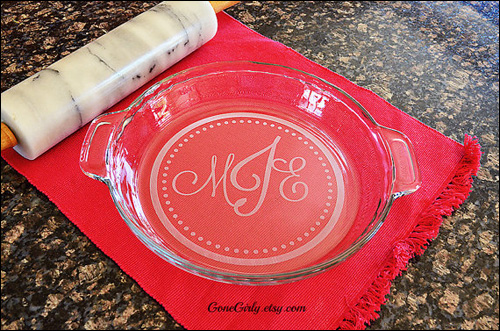 3. Traditional Monogramed Pie Plate from Gone Girly
Amy Cederquist customizes glass bakeware with an endless number of designs. Never lose your dish again when you take it to a potluck, or give the dish as a gift and let the message be reveled as your friend eats the pie.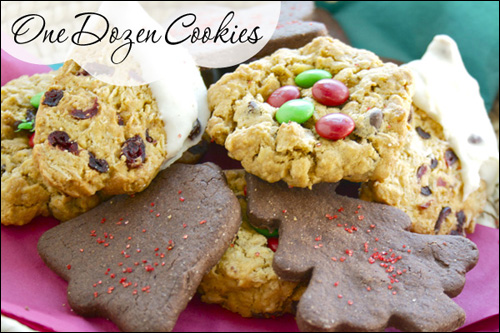 2. Holiday Cookie Care Package and Harvest Moon Pumpkin Cake
We have a variety of delicious treats in the TakeThemAMeal.com store that can be shipped to a friend to let them know you're thinking of them. We enjoy these treats weekly with our own families as we frequently visit A Bowl of Good.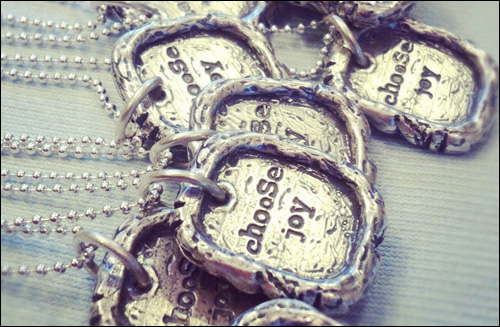 1. Choose Joy Necklace
We read about Ashley Hackshaw earlier in the year and her story is inspiring. She is a successful blogger and shares about her cancer journey in hopes that it will encourage others. Personally, it has been a difficult year for Scott and I as we each found out that a loved one is facing cancer. Won't you join us in "choosing joy" for 2014?
Life can be hard... There's financial trouble, difficult relationships, health problems, death etc... But everyday, I have a choice: I can let these things bring me down... or I can choose joy and just be thankful that I'm here. I can choose." ~Ashley Hackshaw
Read other recent articles by Adina Bailey: