My 11 Favorite Recipes
JANUARY 27, 2017 / MAUREEN WITMER /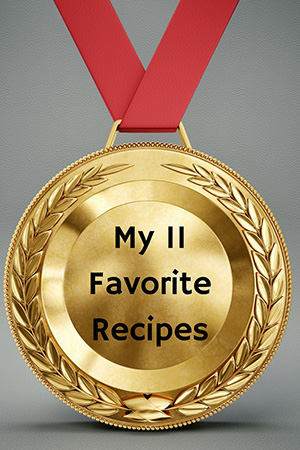 Did you know that TakeThemAMeal.com has an extensive recipe section? Our team tested many different recipes and compiled the tastiest meals for making and taking all in one place.
Since award season is upon us, I thought I'd take this opportunity to highlight my favorites recipes in each of our 11 categories.
And the winners are (actually, they're all winners, but these are a few of my personal favorites!)...
Main Dishes- Chicken and Rice Casserole
This casserole is an absolute family favorite. It's on our menu at least once every few weeks. Warm and satisfying, it's kind of like chicken and rice soup in casserole form. I have found that it's hard to find casserole recipes that don't call for cream of chicken or mushroom soup. This one doesn't and is gluten free as long as you use a gluten free chicken broth. Try using less butter and brown rice for a healthier alternative.
Side Dishes- Green Beans Almondine
Green beans sauteed in butter and olive oil, and topped with crunchy almonds. A perfect accompaniment to many meals!
Vegetarian- Quinoa Chili
The ingredient list may look a little long, but this hearty vegetarian dish is very simple to make. And the best part is that this makes a ton, easily enough for 2 families. Vegetarians and non-vegetarians alike love this chili.
Gluten Free- Lemon Garlic Shrimp and Grits
You don't have to be from the South to enjoy this amazing dish. The parmesan cheese, butter, lemon and garlic compliment the shrimp and grits perfectly.
Low Sodium- White Bean and Kale and Soup
This soup could win in many categories- it's gluten free, dairy free, diabetic friendly, low in sodium and absolutely delectable!
Dairy Free- Jo Mama's World Famous Spaghetti Sauce
Spaghetti and meat sauce is one of the most comforting meals out there. Kick it up a notch with this mouthwatering homemade sauce, simmered for hours with hamburger and italian sausage. This recipe makes a lot and freezes well.
Diabetic- Turkey Meatballs and Simple Tomato Sauce
You would never believe these turkey meatballs are low in sodium and diabetic friendly. Serve with whole wheat pasta for a heart-healthy meal that's savory and satisfying.
Paleo- Crock Pot Roast
Cooking for someone on a paleo diet can be intimidating. Take the guesswork out by making this easy pot roast. With meat, carrots, cauliflower, celery, onion, and herbs you can't go wrong!
Breakfast- Baked Oatmeal
My family rejoices when I make this baked oatmeal. I'm not claiming that it's the most healthy breakfast option, but it's sweet, filling, and oh so delicious when warm. The addition of pumpkin gives it some density. Bake in a 9x13 pan for easy sharing.
Potluck- Fruit Salsa with Cinnamon Tortilla Chips
This unique dish will be the star of your next potluck! The prep work is made easy by the food processor. Bring the recipe for this one along with you because it will surely be requested.
Desserts- Chunky Monkey Cookies
This is the perfect dessert in my opinion- delicious and guilt free! I often make these for new moms because 1. They are dairy free and sometimes a new baby's tummy is sensitive to dairy if the mother is nursing. 2. If many people have signed up to take a family a meal they can sometimes be overwhelmed by all the desserts. Since this one is sweetened mainly by mashed, ripe banana, maple syrup and nut butter, they can feel good about eating them. And 3. I like to keep a few for myself :)

Read other recent articles by Maureen Witmer: