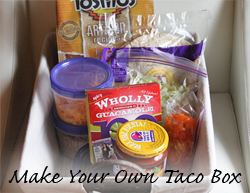 Make Your Own Taco Box
Daily, we are amazed by the generosity of individuals who we meet through TakeThemAMeal.com. We hear often from people who are receiving meals who cannot wait for the time to come when they can take a meal to someone else. I once talked to a woman on the phone who was on bed rest at the hospital and friends were caring for her family with meals. In the same conversation, she was figuring out how she would use the site to help someone else once she was home.
One woman who continually gives back to others after facing her own illness is
Chef Carrie Hegnauer
. She has an unbelievable cancer survival story and is now a successful chef in North Carolina. Chef Carrie knows first hand that a meal delivered by a friend during cancer treatments can mean the world to someone. As part of her work, she develops recipes that are easy to prepare, delicious, and easy to transport to a friend in need. Her
Greek Stuffed Chicken Breast
is a popular recipe on our site and today wed like to introduce you to her
Chicken Tacos
.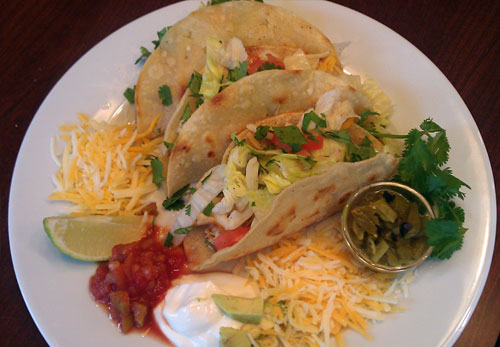 With all the fresh produce beginning to become available this time of year, chicken tacos are an excellent meal choice when taking dinner to a friend. Not only are tacos a healthy and colorful choice for a meal, they can easily be made vegetarian and the recipient can customize the toppings. Another huge benefit of taking tacos is they can be packaged easily and the recipient can save the meal for another evening, if needed.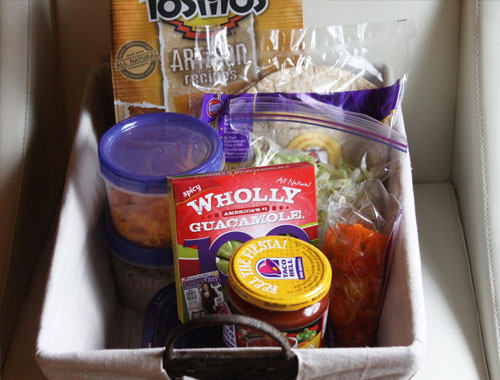 --
Read other recent blog posts: