If you can chop vegetables, you can make these healthy, slow cooker freezer meals
back to all blog posts
Posted By: Adina Bailey, Co-Founder, TakeThemAMeal.com on Oct 4, 2012
We recently discovered a fantastic eCookbook that will simplify caring for your family and friends. After trying several freezer meal techniques, Stephanie of the Mama and Baby Love developed a very easy approach to freezer cooking. Ahead of time, the meals only require assembly and no cooking is required until the day you will enjoy the meal. On the day you prepare the meal, you will only need your slow cooker.
Stephanie shares more of her healthy, slow cooker freezer meal recipes in her updated eCookbook, From Your Freezer To Your Family. Not only does the new eCookbook contain 15 new recipes with shopping lists, nutritional information and cute printable labels are available for each recipe. The updated eCookbook earned a stamp of approval from farm-to-table restaurant chef, Matt Hagel. These recipes are time savers and perfect to deliver to a friend as part of a meal schedule.
Stephanie is passionate about sharing information that will help others nourish themselves and their families. I've enjoyed getting to know Stephanie and how she desires to share what she is learning as she cares for her own family. Be sure to bookmark her blog and like her on Facebook.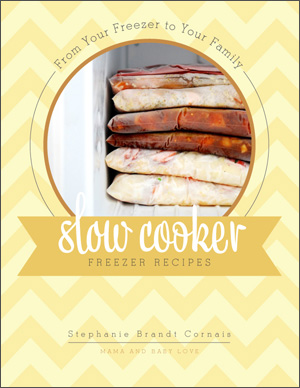 Read other recent articles by Adina Bailey:


Hello friends! As you are caring for others with meals, we hope you find our blog full of tested recipes and thoughtful ideas to encourage you along the way.
The five of us look forward to hearing from you. Please email us.
Adina, Kate, Janelle, Rachel, Maureen


Subscribe to the TTAM Blog...

Subscribe in a reader
Helpful Posts
Recent Posts...
Visit TakeThemAMeal.com's profile on Pinterest.