How to Plan an A+ Teacher Appreciation Week
APRIL 9, 2019 / LINDSEY SHANTZ /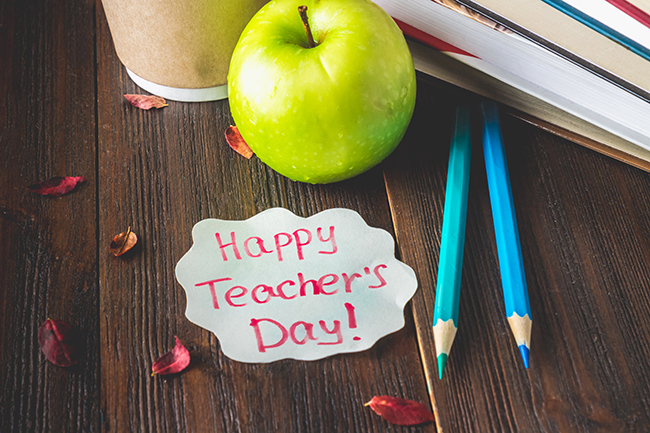 Are you short on time and want to achieve an amazing Teacher Appreciation Week? We can help with your event planning details. We know class parents and Parent Teacher Organizations (PTO's) are in a busy spring season.
PerfectPotluck.com
can help organize the details within minutes and invite others to participate to make it a wonderful week at your school! From a teacher appreciation luncheon to a personalized gift basket and more, our online planning tool will leave no detail overlooked.
Start planning now for Teacher Appreciation Week May 5-11, 2019. Teacher Appreciation Day is celebrated Tuesday, May 7.
Here are some ideas to ensure an A+ Teacher Appreciation Week for your school.
1. Teacher appreciation luncheon
Take the stress out of planning and use
PerfectPotluck.com
to create a teacher appreciation luncheon in honor of the special teachers and staff at your school. Create your schedule in minutes and invite other parents to participate. You may even create categories such as event setup, servers for the meal and cleanup duties.
Who doesn't love a good potluck or party theme? Check out these
theme ideas
for some inspiration!
2. Personalized gift basket
It's not hard to know the 'perfect' gift for a teacher with a little detective work and asking the right questions. A designated classroom parent could have the teacher complete a
getting to know you survey
. Then, take those results and create a PerfectPotluck.com schedule and invite other class parents to sign up to donate items for the teacher gift basket.
The schedule can be used for food items such as favorite foods, snacks and beverages, as well as non-food item categories such as gift cards for a favorite free-time activity or coffee shop. Any teacher would be honored to receive a gift basket personalized just for them!
3. Classroom supply drive
Teachers give generously of their time and resources. By springtime, classroom supplies are often dwindling and need to be replenished. Everyone has a different love language - and for some teachers that might mean restocking needed supplies. Request a wishlist and organize a supply drive to show your appreciation!
4. The gift of a meal
Send a busy teacher what they really want. We now offer
gift cards
allowing the meal recipient to select their favorite meal. We take the guesswork out of the decision, and the meal is hand-delivered to their door! The meal recipient also gets to decide when the meal will be most helpful by selecting a delivery date of their choice. A meal delivered to a teacher or friend is a true gift of appreciation!
Be sure to also check out
TakeThemAMeal.com
for ongoing meal needs such as caring for a teacher with a new baby or to encourage someone at your school undergoing cancer treatment. Our website is an easy way to strengthen and connect your school community!
Teachers give selflessly of their time and often resources, and their caring goes well beyond the school day. They are a gift to our children, community and the classroom! If you know a teacher, reach out to them and recognize them for the A+ job they do!
Read other recent articles by Lindsey Shantz: