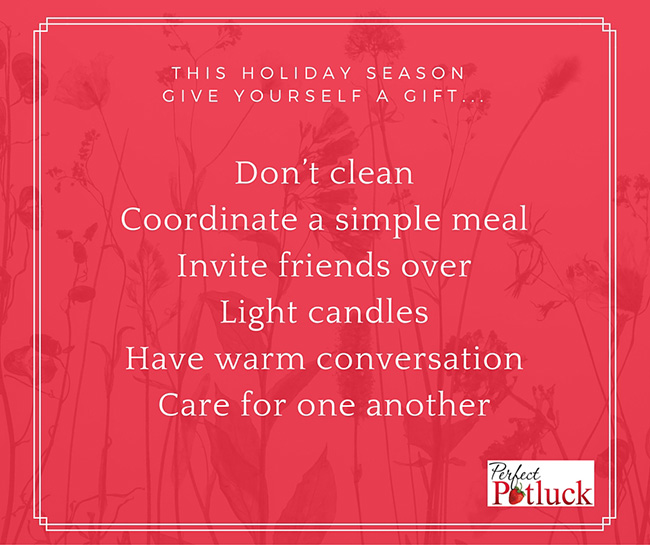 Give Yourself a Gift
"If you really want to make a friend, go to someone's house and eat with him... The people who give you their food give you their heart." ~Cesar Chavez
Do you often put off having friends over around the holidays because your house isn't clean enough or you're overwhelmed with the thought of cooking dinner for a group? I understand this thinking completely because I've been there (and can still be there depending on the day).
I wanted my friends to think I always keep a clean house and can make a three course dinner with ease. The truth is my house has our belongings scattered around on most days and thinking through a meal for more than our family is an effort. As a result, I put off having friends over for dinner because it required too much effort.
In reality, I wanted the dinner to be too different from my real life. My real life includes simple meals, bathrooms needing some attention, and dog hair on the floor. Now, I allow my friends to bring a dish to help with the meal and I know my house can just be my house.
Today, we need real connections and conversations with each other over our dinner tables more than ever. Our friends do not have the expectations of us, our food, and our homes that we have of ourselves. Sharing a warm, simple meal on a cool evening with good friends is a gift to your friends this holiday season, but even more so to yourself.
This
Slow Cooker Vegetable Minestrone
is delicious and easy for serving to a group. Have your friends bring a loaf of bread and a salad for a simple, lovely meal.
--
Read other recent blog posts: