Five Tips for a Perfect Potluck
MARCH 10, 2017 / MAUREEN WITMER /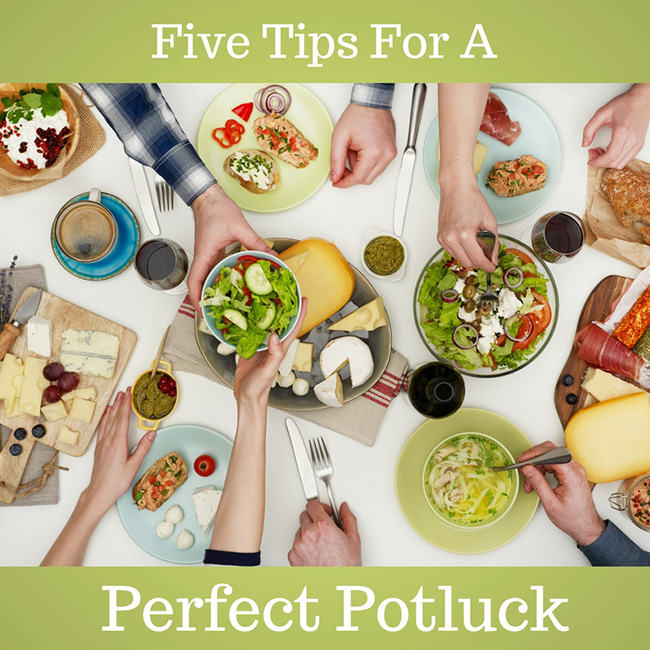 Potlucks terrify me. I have a severe food allergy and the thought of being at place where there are unlabeled dishes and I'm not sure who to ask is frightening. Add a hungry belly to the mix and it's safe to say that for a long time potlucks were not my favorite gatherings.
Thankfully, there's a way to lessen the uncertainty of potluck meals.
TakeThemAMeal
's sister site,
PerfectPotluck.com
, is a free, online tool designed to make coordinating a large group meal easier. I have been using
PerfectPotluck.com
for the past 4 years to create sign-up sheets for our church's monthly potluck. Over that time, I've discovered a few vital ingredients of a successful and fun group meal experience. I hope these are helpful and inspiring!
1. Choose a theme for your potluck. Here are some of our recent favorites-
Brunch- A crowd pleaser! Breakfast mains (casserole, frittata, etc.), bread (muffins, coffee cake, etc.), and breakfast sides (bacon, sausage, hash browns). You can't go wrong!
Greek- Mediterranean flavors make for a fresh variety of foods.
Family Favorites- We usually do this around September, back to school season. One year we got large rolls of paper from a local paper supplier and used it in place of a tablecloth. The kids had a blast drawing and coloring during and after the meal!
International- During the Olympics this summer we invited families to make an internationally-inspired dish. The tables were colorfully decorated with flags from many countries.
Restaurant Recreations- Have a dish from a restaurant that you love but haven't tried making at home? Now's your chance!
2. Clearly label all dishes. Put out index cards and pens for participants to write down their name, the name of their dish, and any other pertinent information, like food allergies. Sometimes at our potluck if a participant doesn't know if their dish contains any allergens they will write down all the ingredients. Coming from someone with a severe allergy, this is incredibly helpful! I can feel confident eating if I can see everything that went into the dish.
3. Consider serious allergies. If there is someone with a life-threatening allergy in your group consider recommending that food is completely omitted. There is a peanut allergy at our church and every month we remind the group "no nuts of any kind". It's hard to accommodate all allergies, especially if it's a large group, but if you are aware of a particularly serious one it's thoughtful to keep it out of the mix entirely.
4. Delegate.
You don't have to do everything on your own. Put others in charge of parts of the meal where they have particular giftings. For instance, a very crafty teenager (the daughter of
the woman who inspired this site
!) in our church does our centerpieces. She always has the best ideas! The tables look beautiful and it really adds something to the experience. Also, I coordinate the meals with a close friend. If one of us is sick or on vacation someone we're still covered.
5. Take note of your favorite dishes.
Another huge advantage of using
PerfectPotluck.com
to organize your meal is that you can quickly see who made what in case there was a dish that you or your family loved. Recently, we had a church meal and as soon as we got in the car my husband asked, '
Who made that amazing chicken and potato dish?
' I went to our sign up, found the cook, and emailed her to ask for the recipe!
Read other recent articles by Maureen Witmer: