Find out our plans for the fall
Hello to both our faithful friends and new friends! We don't often put ourselves front and center, but Scott and I thought we'd take this opportunity to say hello as we're all headed into the season of planning and gathering as we close out summer.
Just last week, I signed up to take a meal to a family from our church who had been struggling on and off with sickness for some time. It also happened to be back-to-school week for my family and my husband was traveling for work. Needless to say, my hands were particularly full, but I still wanted to help.
When I signed up on the schedule, I entered "pizza night" as my meal. This particular family couldn't have gluten, so I bought the best gluten-free pizza I've ever had from Costco and cut up some fruits and veggies. Krusteaz makes a yummy gluten-free brownie mix. By keeping the meal simple, I could support this family and the extra fruit and veggies helped with our own school lunches. To provide a "pizza night" for a family without allergies, you can send a pizza gift card electronically or you can order their favorite pizza and have it delivered (or you can deliver it). You can also buy fresh dough or pre-made crusts, sauce, cheese, and your favorite toppings to drop off.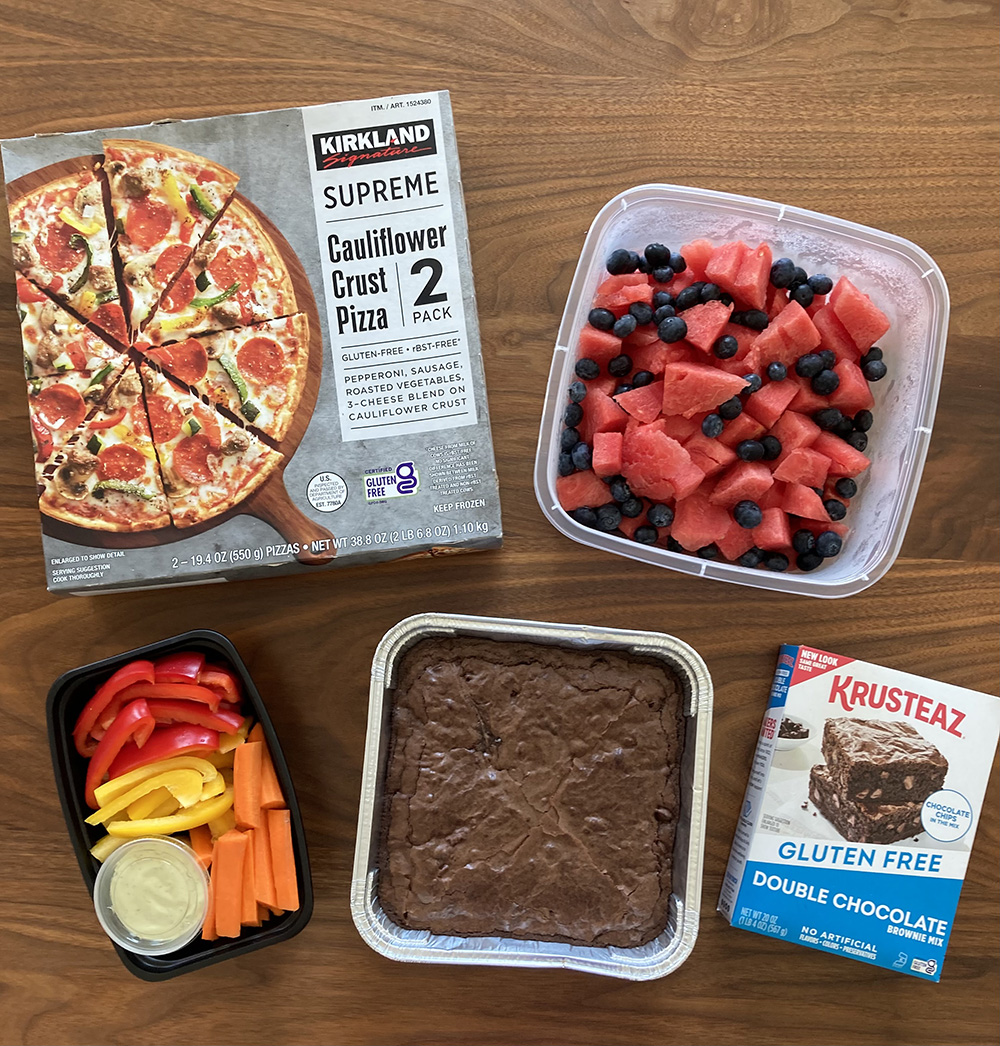 So, just like you, Scott and I are real people trying to support our friends. Even before we created
Take Them A Meal
, Scott and I (and our families) created meal schedules and took meals from our own kitchens to our loved ones. When we work on Take Them A Meal (and Perfect Potluck!), we always try to see it through the lens of what would help all of us the most.
As we enter into the fall, these are the ways we plan to support you as you care for and gather your friends:
Simple Meal and Support Ideas
Just like my Costco meal above, we will continue to share real meals that we (and our team!) are taking to our friends. We'll do this through the blog and social media. As always, you can also find delicious meals that transport well in
our recipe section
.
Video Stories
On the front of
our site
and our
YouTube Channel
, you will continue to see stories of friends taking meals to friends. Some meals are store-bought, some are homemade, and the reason for taking the meals are varied, but we're sure you'll be inspired.
Merchandise Store
Our
merchandise store
is where you'll find some of our favorite "meal taking" items for sale like our insulated tote bags. Our famous You Are Loved spoons are also now available in our store and we recently added some asparagus note cards designed by our very own Kelli Napotnik. Later in September, we have an exciting new product to add that we designed ourselves over the past few months. We can't wait to show you because it solves a practical problem we often face when taking a meal!
Holiday Spoon Sale
Our You Are Loved spoons will be festively packaged and ready for purchase the week after Thanksgiving. Be sure to watch our weekly blog mailing for details!
Perfect Potluck Instagram
Our easy sign up site for all of your group gatherings now has its
own Instagram Page
. Be sure to follow it for fall party and event ideas!
Weekly Summary of Our Favorite Content
We're all busy and I know I miss tips and tricks that would be helpful to me. We're going to start summarizing our most popular posts from the week in our blog email, so you can find everything in one place. We'll start with a few of my favorite tips we shared this summer.

2. Have a new neighbor? Introduce yourself by telling them your favorite restaurants and places around town. We LOVE
this idea
!
3. Easily make a plain white cake or cupcake look adorable with this
blueberry garnish
. I think this is my favorite reel that Nadia created this summer.
4. Taking some Get Well Cookies to a friend? This
free printable
"You're one tough cookie" tag is a cute addition.
Finally, I want to close with this email that warmed my heart this week. Scott and I both love hearing how you are using Take Them A Meal to care for and support those who mean the most to you. And we want to make it easy for you to offer support during life's hardest times!
"I organized a meal schedule for my best friend and neighbor who was in hospice to support her and her family. I had not done this online before and was a little hesitant. I'm not super computer savvy, but it was so easy and it worked beautifully. We provided meals 3 days a week for 14 weeks. We continued the meals after her death to support her husband and family. The meals ended this week and there were no missed or forgotten meals. Your reminder and thank you messages were awesome. I can't thank you enough for the design and management of this site." ~Rinda
Read other recent blog posts: