Feast for the Eyes Photo Contest WINNERS!
MAY 27, 2013 / MAUREEN WITMER /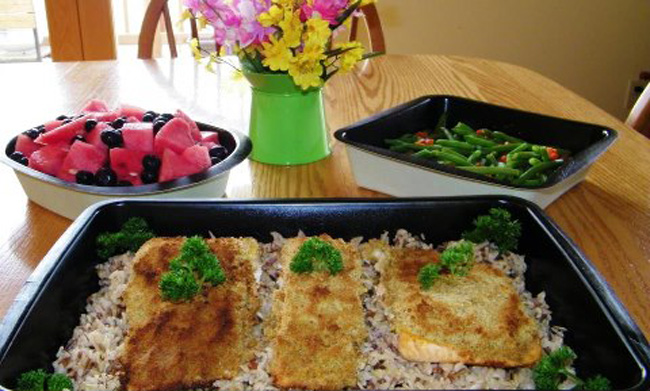 Thank you to everyone who participated in our Feast for the Eyes Photo Contest! TakeThemAMeal users continue to inspire us with their kindness, generosity, and creativity. We enjoyed the many photos of tasty-looking dishes, and the thoughtfulness and care they represent. Submissions came from across the country. Your votes helped narrow down the top 20 photos and the judges chose the winning three photos based on best packaging, labeling, color, creativity, and other thoughtful gifts/extras.
Here are the winning photos and some of the recipes they used. We hope they inspire you as you consider what to make for an upcoming meal delivery!
A note from the winner - The Seasoned Green Beans were pretty easy. I just steamed the green beans, and then tossed them with a splash of extra virgin olive oil as well as a little Italian seasoning. I sprinkled them lightly with a little coarse sea salt. And then, for the watermelon, I just cut it into pieces, and served with blueberries strewn across the top. I used the new Chinet Bakeware to take the food.
Winner #1 - Hazelnut Crusted Salmon
Ingredients:
4 Salmon filets
4 tsp dijon mustard
1 cup fine bread crumbs
Approximately 4 hazelnuts finely chopped in food processor or blender
Sea salt
Fresh ground pepper
Fresh parsley
2 tsp italian seasoning
Directions:
Preheat oven to 375.
Place salmon filets in baking dish greased with coconut oil or olive oil.
Brush light coat of mustard on top of the filet.
Sprinkle lightly with sea salt.
Mix together (or use a blender to make super fine) the breadcrumbs, hazelnuts, italian seasoning, 2 sprigs of fresh parsley and salt and pepper to taste.
Add to the top of the salmon.
Bake for approximately 20 minutes or until fish is opaque and tops are lightly browned.
Garnish each filet with a sprig of parsley.
Serve with rice.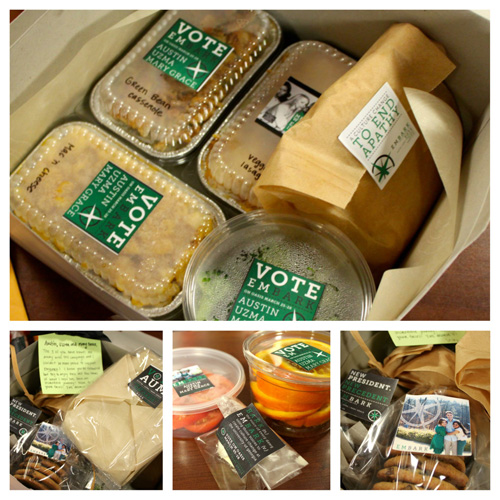 Winner #2 - Vegetable Lasagna
Note from the winner - This is fun and easy recipe to play around with. For something different with a few less carbs, try substituting the pasta for spaghetti squash. Also, try adding in mushrooms, spinach, onions or whatever else you have on hand for additional flavor combinations. College budgets allow for lots of creativity when it comes to meal preparation!
* Adapted from Fitness Magazine
Ingredients:
8 ounces dried whole wheat blend spaghetti, broken in half
1 medium eggplant
2 tablespoons extra virgin olive oil
1 cup pasta sauce
1 tablespoon extra virgin olive oil
2 cloves garlic, minced
1 large zucchini (about 12 ounces), unpeeled and shredded (2 cups)
1/2 teaspoon dried basil
Kosher salt and freshly ground black pepper
1 cup shredded part-skim mozzarella cheese
v4 large eggs
1/2 cup 1% low-fat milk
1/4 cup grated Parmesan Cheese
Directions:
Preheat the oven to 400 degrees.
Peel eggplant and slice into one-eighth to one-quarter inch thick round slices.
Lie flat on a large baking sheet and brush with olive oil on both sides.
Sprinkle with salt and pepper and place in oven for 10 minutes.
Remove from oven and flip slices over.
Return to oven for an additional 10 minutes or until eggplant becomes slightly golden.
Remove from oven and let cool.
Reduce the oven to 375 degrees.
Lightly oil or coat a 2-quart baking dish with nonstick cooking spray and set aside.
Cook the pasta according to package directions.
Drain and return to the pan.
Stir in the pasta sauce and set aside.
While the pasta is cooking, heat the oil in a large nonstick skillet over medium heat.
Add the garlic and cook, stirring frequently, until golden, 30 seconds to 1 minute.
Add the zucchini and basil, cook, stirring occasionally, until the zucchini is tender, about 8 minutes.
Season with salt and pepper to taste.
Stir the cooked zucchini and mozzarella cheese into the pasta until well combined.
Transfer one half of the mixture to the prepared dish.
Layer with half of the eggplant.
Pour remaining pasta mixture over top and layer with the rest of the eggplant.
Meanwhile, whisk together the eggs and milk in a bowl.
Pour the egg mixture evenly over the top of the spaghetti and eggplant, and sprinkle with Parmesan cheese.
Bake until bubbly and golden brown on top, 25 to 30 minutes.
Let stand about 5 minutes before slicing and serving.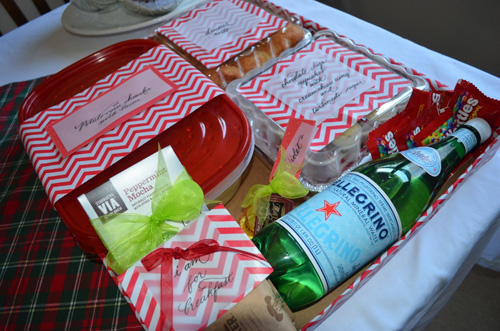 Winner #3 - Chocolate Cupcakes with Cream Cheese Frosting
Note from the winner - My mother (a Home Ec teacher) always insisted that my sisters and I should know how to bake a cake without a mix. She also always said that cake mixes were a great invention and that with a few tweaks, one Duncan Hines box could yield the taste of a gourmet bakery! To that end, enjoy the recipe below.
Ingredients:
1 box chocolate cake mix
Replace oil with an equal amount of melted butter
Add 2 additional eggs
Replace water with an equal amount of milk (preferably whole milk, but 1% or 2% will work, too.)
Add 2 Tbsp cocoa powder
Add 1 cup mini chocolate chips
Bake according to directions for cupcakes. Allow to cool completely before frosting.
Frosting Ingredients:
2 packages cream cheese, softened
1/2 c butter, softened
2 c confectioner's sugar
1 tsp vanilla
Turbinado (Raw) sugar or sanding sugar for dusting the tops of your cupcakes.

Directions:
Cream butter and cream cheese together until smooth.
Add vanilla.
Add in confectioner's sugar a little at a time, stirring until smooth.
Use your cake decorating tools to pipe frosting onto cupcakes or (if you don't have a piping bag and tips) spoon frosting into a ziploc and cut one bottom corner off to leave an opening of about 3/4 inch and pipe the frosting out in swirls on top of your cupcakes.
Sprinkle a little turbinado sugar on top for some crunch or even add a festive little flag!
Store cupcakes bearing this frosting, along with any leftover frosting, in the refrigerator, but take it out a few minutes before you plan to use it if you make the frosting ahead.
It is difficult to squeeze out when it gets cold!
Read other recent articles by Maureen Witmer: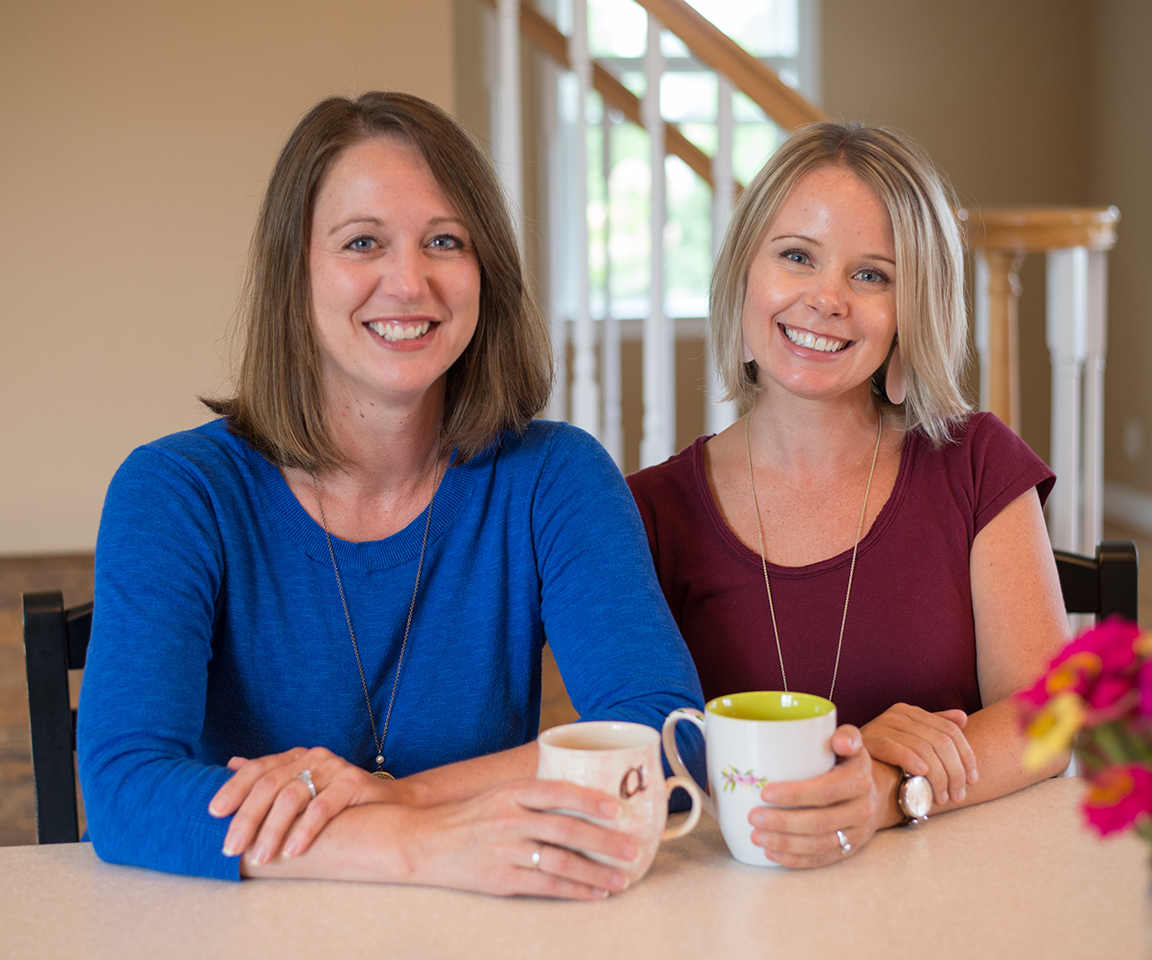 Adina & Maureen
Welcome! We're thrilled you stopped by. Our own joys and sorrows have taught us that a well-timed meal delivered by a friend is one of the best gifts imaginable. In this space, we share our favorite recipes to take to friends, meal-taking tips, and other ways to care for those who are dear to you.
Helpful Posts
Recent Posts...
Visit TakeThemAMeal.com's profile on Pinterest.