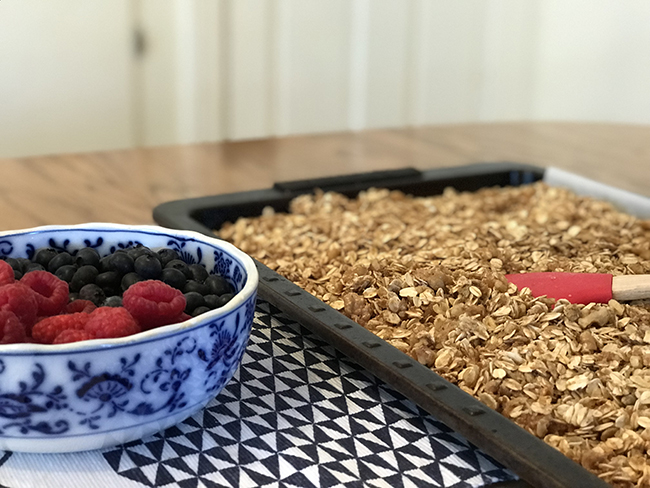 Deliver a Good Morning with Homemade Granola
Just because you're short on time in the morning doesn't mean sacrificing good taste or your health. This Good-Morning Homemade Granola is highly portable, packed with nuts and dried fruit and can easily be customized based on your family's preferences.
It's the perfect addition to include for breakfast when taking a meal to a friend. The granola is easily made ahead of time and stores well in an airtight container. I also like to include Greek yogurt and some fresh blueberries or strawberries.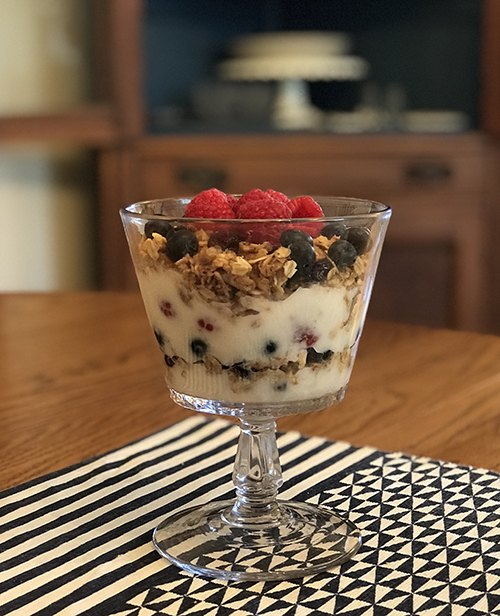 Consider doubling the recipe to make your morning routine easier and to care for another family. As a bonus, it's highly portable in a container with alternating layers of yogurt, granola and fruit. I like to use Mason jars (we always have plenty of those on hand). Enjoy!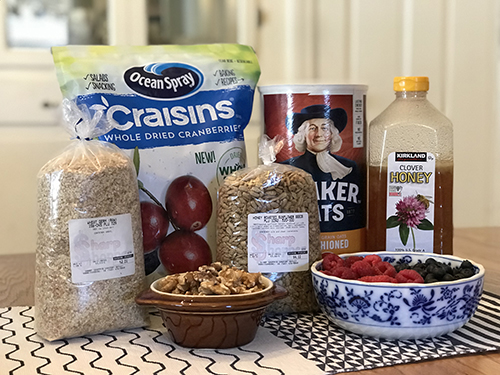 Good-Morning Homemade Granola
4 cups rolled oats
1 cup wheat germ
1 cup chopped walnuts or slivered almonds
1/2 cup sunflower seeds (I use honey roasted)
1/4 cup brown sugar
1 teaspoon cinnamon
1/4 teaspoon salt
1 teaspoon vanilla extract
1/3 cup vegetable oil
1/3 cup honey
1/3 cup water
1 cup whole dried cranberries or other dried fruit
Instructions
Heat oven to 300 degrees and line a rimmed baking sheet with parchment paper.
In a mixing bowl combine and stir together the rolled oats, wheat germ, nuts, sunflower seeds, brown sugar, cinnamon and salt.
Make a well in the dry ingredients and add the oil, honey, water and vanilla. Stir the mixture until the ingredients are well combined, then spread the granola evenly on a lined baking sheet.
Bake the granola for 30 minutes or until lightly browned. Stir the granola every 10 minutes to prevent the mixture from sticking. Let it cool completely and then stir in the cranberries or other dried fruit.
Store the granola in an airtight container at room temperature. Makes about seven cups.
I've adapted and tweaked the recipe over the years. I often add dried cherries and banana chips and occasionally shredded coconut too. This basic recipe can easily be varied. My family prefers the granola with Greek yogurt and topped with whatever fresh fruit is in season.
Tips
It's hardly any extra effort to double the recipe. For a double batch you will need an extra large mixing bowl and two rimmed baking sheets.
To make the recipe gluten free, eliminate the wheat germ and be sure to use oats that are labeled gluten free.
To make the recipe dairy free, send along coconut milk yogurt instead of Greek yogurt.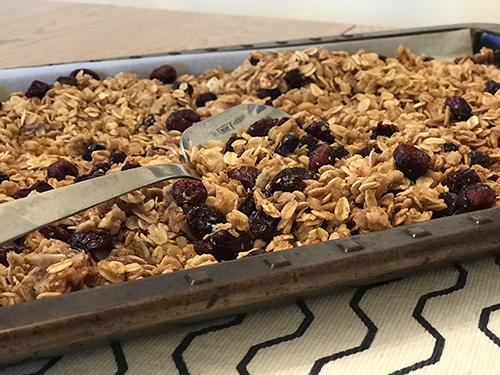 If you would like a few additional breakfast ideas, we have you covered. One of my family's favorites is a simple
Breakfast Pizza
using crescent rolls as the crust. Maureen's favorite quick and easy
breakfast recipes
are also a helpful resource. Some can even be frozen and ready to go when needed.
When you need some meal planning inspiration, make sure to visit our tested (and enjoyed!)
recipe
section. You can even browse by category, such as
breakfast
recipes.
We have a Pinterest page full of inspiration, ideas and extras. Follow us
here
or check us out on
Instagram
to stay connected!
Read other recent blog posts: