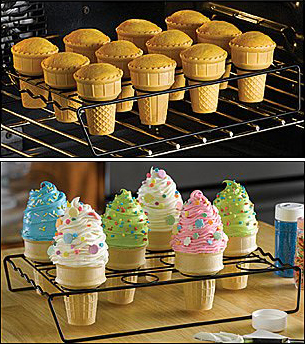 Cupcake Cone Baking Rack
Yesterday, I received one of my favorite gifts of all time. For as long as I can remember, I have been a huge fan of cupcake cones. They were a special treat during my childhood and I've loved sharing the tradition with my own children. Truthfully, I say I'm making the cupcakes for "my kids", but in reality, I have myself in mind when I make them (although I don't mind sharing).
Until yesterday, I tried several techniques for baking my cupcake cones. Sometimes I would put them in mini muffin pans, but with one tilt of the pan, they would all go tumbling. Other times, I would try to balance them in a foil pan with tall sides thinking that if I squeezed in just the right number, they wouldn't fall over. Many times, they still fell. Now, I own the perfect solution.
A friend who knew of my love for cupcake cones saw a rack made just for baking these cones when she was shopping one day recently. She immediately thought of me and purchased the rack. Today, we connected and she surprised me with this thoughtful gift. I love the fact that you can transport and serve the cupcake cones using the rack as well. I cannot wait to give my gift a try. Thanks, Amber!
--
Read other recent blog posts: