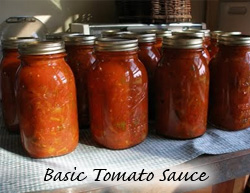 Basic Tomato Sauce
It won't be long before fresh tomatoes are available everywhere. Last year, I discovered the blog, Thy Hand Hath Provided, and decided to try out Jane's recipe for Basic tomato sauce. Being new to canning, I found the recipe to be simple and delicious. We savored each jar over the winter and have one jar left to use.
Jane's sauce can be used in a variety of meals and the salsa recipe is delicious too! I use the salsa each time we make Taco Stuffed Shells to take to a friend.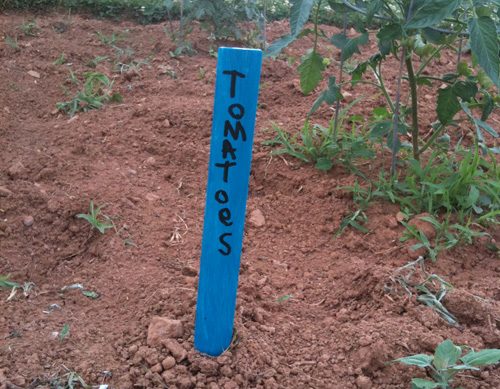 Currently, our paint stirrer tomato marker is just about as tall as our tomatoes, but we can't wait until our tomatoes come in and we can make Basic Tomato Sauce and Salsa again this year. It's such a treat when the winter months come or when we need to cook a quick meal for a friend.
This sauce is our go-to sauce for everything. In the past I have made a couple different kinds of sauce each year, but when it comes down to only being able to choose one to make (like I'm having to do this year)- it's got to be this one.
The reasons we love it are many. Our top few are that it's a chunkier sauce (I've always preferred chunky over smooth) and that it's full of other veggies (carrots, peppers, onions) that the kids don't even realize they are eating. Also, there is no need to peel your tomatoes for this chunky sauce. Just chop them up and you're ready to go. The skins get lost in the sauce and you can't even tell you are eating them.
We use it for spaghetti, pizza, lasagna, you name it.
Click here
to see some pictures from last year.
Basic Tomato Sauce (Recipe from Simply In Season)
This should have a different name. Like, "Fabulous Chunky Garden Tomato Sauce".
This recipe yields about 3 pints. You'll want to make more. Italicized comments are mine.
1 onion, chopped
2 cloves garlic, minced
2 carrots, shredded
1/2 green pepper, chopped
2 bay leaves
1/4 cup fresh parsley
2 tbsp. fresh basil, chopped (or 2 tsp. dried)
1 tbsp. fresh oregano (or 1 tsp. dried)
1 tbsp. fresh thyme (or 1 tsp. dried)
6 cups plum tomatoes, peeled and chopped (NOTE: I use Roma tomatoes and don't peel them)
6 ounces tomato paste
1 tbsp. honey
salt and pepper to taste

Saute onion and garlic in 2 tbsp. oil until tender. Add carrots through herbs and stir well. Add tomatoes, paste, honey and salt and pepper to taste. Simmer for 15 minutes. Remove bay leaves and serve or freeze. To can, ladle into hot, sterilized pint jars (or quarts if you are canning a larger amount) to within 1/2 inch of top, add 1 tablespoon of lemon juice or vinegar per pint to assure acidity, seal with sterilized lids and process full jars in boiling water bath for 35 minutes.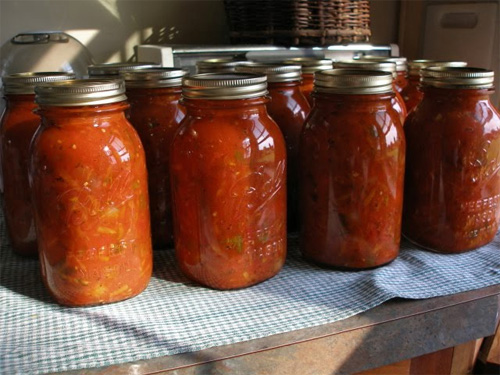 Read other recent blog posts: