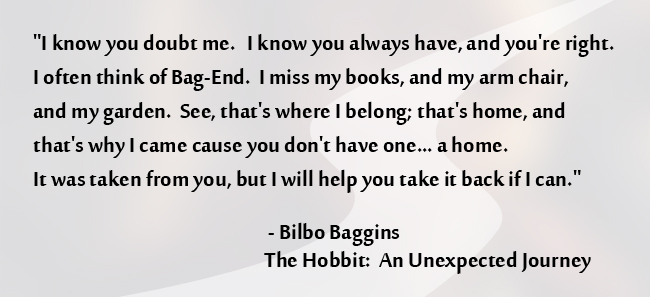 An Unexpected Journey
Scott and I were intentionally quiet these past two weeks as we shifted our focus to spending a majority of our time with family and friends. It's during these times of living fully and being with others that we see even more deeply how traditions, especially those involving food, bind us together.
Even in our rest,
TakeThemAMeal.com
and
PerfectPotluck.com
were not far from our thoughts. As I sat watching the movie "The Hobbit: An Unexpected Journey" with my family last week, I heard the main character, Bilbo Baggins, speak a profound truth that is the essence of why we take meals. In the movie, Bilbo has traveled far from his comfortable home, Bag-End, because he is on a mission to help his friend, Thorin, regain his home that was wrongfully taken.
Thorin cannot understand why Bilbo has agreed to this dangerous mission, and as a result, he doubts his loyalty. This is Bilbo's kind and genuine response:
"I know you doubt me. I know you always have, and you're right. I often think of Bag- End. I miss my books, and my arm chair, and my garden. See, that's where I belong; that's home, and that's why I came cause you don't have one... a home. It was taken from you, but I will help you take it back if I can."
Last year and for the past five years, it has been a privilege to watch as our users leave behind what is easy and known, to venture into difficult places for the sake of a friend. We know it's not easy to prepare dinner and knock of the door of a friend who's hurting. Sometimes you don't know what to say or you are afraid of saying the wrong things. Other times, you want to make certain your meal is something your friend can eat, but it's different than how you would usually cook. Despite your fears, we see you take on this challenge and journey to the doors of friends over and over again.
Scott and I are thankful we can partner with all of you who are accepting this challenge of taking meals. Since March alone, over 600,000 meals have been taken to friends.
In 2013, our goal is to support you further as we expand our resources related to caring for friends who are hurting. We will also be offering you tested recipes that are tailored to a broad range of dietary needs and preferences.
In 2013, we look forward to what we can learn from each other about how to best care for our friends who need to feel the warmth of "home" again.
--
Read other recent blog posts: