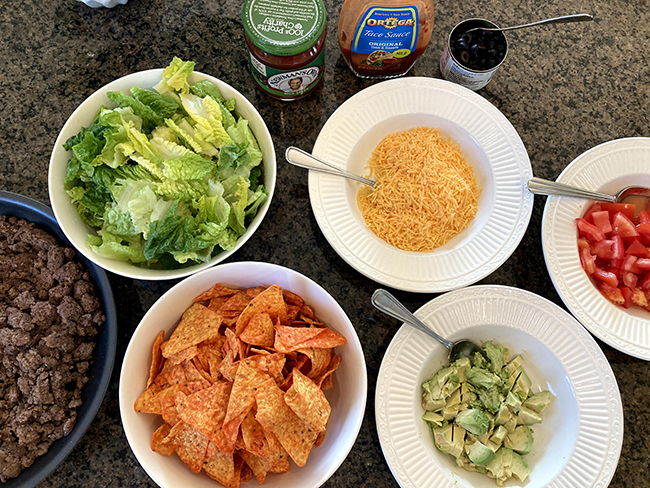 A Last Minute Meal to Take to a Friend
As I was making dinner for my own family (photo above), I was reminded of a time a few months ago when one of my dearest friends and I wanted to take a meal to a grieving family. I was stumped at first when deciding what to take, but my friend (who is the queen of taking meals quickly and often), suggested a specific meal and it worked out perfectly.
We needed a meal that was:
quickly prepared
easy to transport
great for leftovers
allergy-friendly
gluten-free (if desired)
dairy-free (if desired)
enjoyed by most people
In my mind, that was a tall order and I wasn't sure what we could take. One of my friend's go-to meals for a situation like this one is TACO SALAD. This was the meal we prepared and it came together beautifully. We also added cornbread with
Cranberry Honey Butter
. Yum! If your group needs gluten-free, dairy-free cornbread,
this mix is great
when made with almond milk.
When taking taco salad to a family or a crowd, you have so many options!
Base: Romaine or iceberg lettuce (washed and chopped), fresh spinach
Protein:
Browned ground beef,
chicken
, black beans (rinsed and drained)
Toppings: Shredded cheese, sour cream, diced fresh tomatoes, avocado (add a little lemon or lime juice to prevent browning), black olives, crushed tortilla chips (be sure they are gluten-free) or Doritos (these have not been tested and cannot be labeled gluten-free)
Dressing: Salsa, taco sauce
This meal works well for feeding a family or a crowd. If it's a more casual presentation like for a family or potluck, use containers with lids or you can see how Maureen uses paper bowls
here
. For our more formal meal, we used
"crystal" bowls from Dollar Tree
to create a nicer feel for the grieving family.
This is an easy meal to split up among friends if you are feeding a larger group (without much notice) like we were.
Happy Summer from me and the TakeThemAMeal.com team!
--
Read other recent blog posts: