6 Ways to Remember a Lost Loved One
MARCH 11, 2015 / KATE KELTY /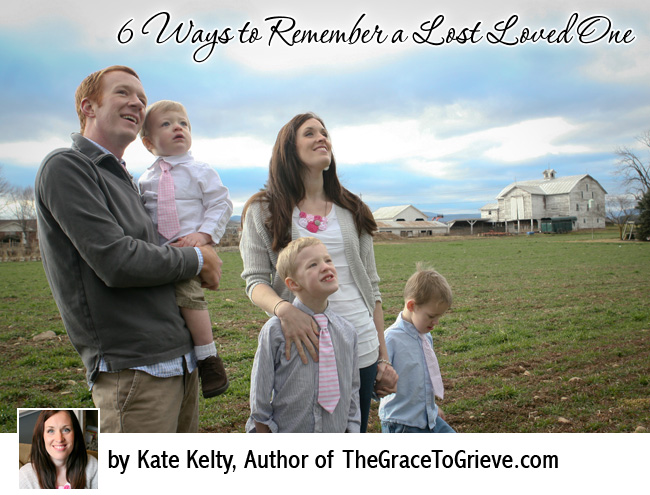 We are so thankful that Kate Kelty is a regular contributor to our blog. She shares beautifully and honestly from her life experiences. She wrote this post two years ago, and now her Anna would be ten. Kate has continued these traditions each year. Be sure see her blog as well.
-Adina Bailey, Co-founder of TakeThemAMeal.com
Eight years ago I held and kissed my daughter for the first and last time. After nearly nine months of carrying her, her birthday brought death and this death brought the deepest, darkest grief I've ever known. My husband and I have since been blessed with three precious boys. The grief for Anna has not disappeared with time, but the blessings and the joy that life has given these past eight years has filled our hearts to overflowing.
I remember when I was pregnant with our oldest son, my husband and I discussing how we would remember and celebrate the life of our baby girl with our future children. Over the years some beautiful traditions have been established, traditions that allow us to smile and laugh through the tears and to teach our boys how to choose hope and gratitude in the midst of sadness.
Today I invite you into our celebration of Anna's eighth birthday. I hope these ideas will be a blessing to you if you are seeking ways to remember someone you have lost, or to bless someone you know who is grieving the loss of a loved one.
This is how we honor Anna...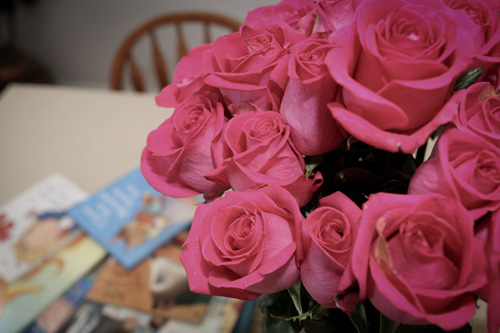 Each year I pick out the perfect pink roses for Anna Rose Kelty. Of course somehow they are never perfect or pink enough, but each petal smells of sweetness and each one reminds me of the life she lived and the beautiful ways my life has been forever changed because of her.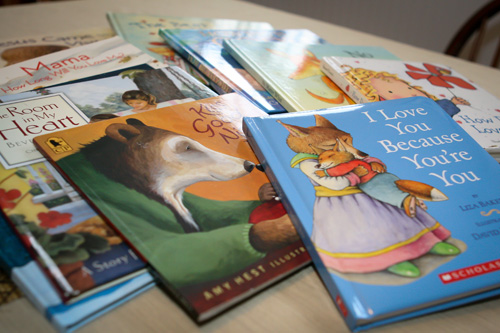 We began our Anna library on Anna's first birthday. We, along with friends and family, purchase a book in honor of Anna each year which read of love, hope, heaven and faith. Every February we take down all of the Anna books from their special spot, and as we read, we are reminded of a love that never dies, of the precious relationships we share with one another and the faith that promises us the reunion we are all longing for. The boys get so excited about this tradition and the books we add to our Anna library each year.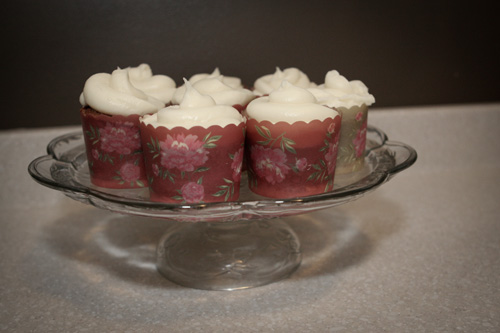 I love making the perfect sweet treat in honor of Anna. I mix and stir through a combination of tears and joy. This year, pink velvet cupcakes with cream cheese rose bud frosting felt right. With a house full of boys, it's fun for me to have my way with feminine frills and flowers.
The kids love to dress up for special occasions. We celebrate birthday dinners this way. This year I commissioned a seamstress friend to sew pink ties for the boys in coordinating fabrics. She surprised me with a rosebud necklace too. Pink doesn't make much of an appearance in our homeso for us, pink means Anna.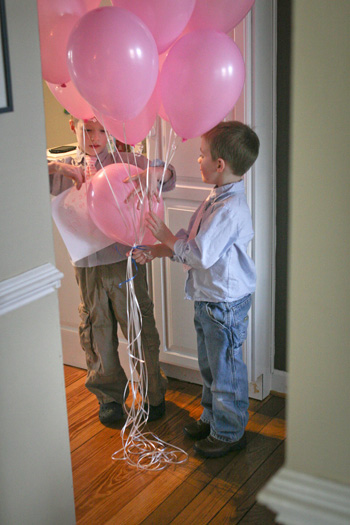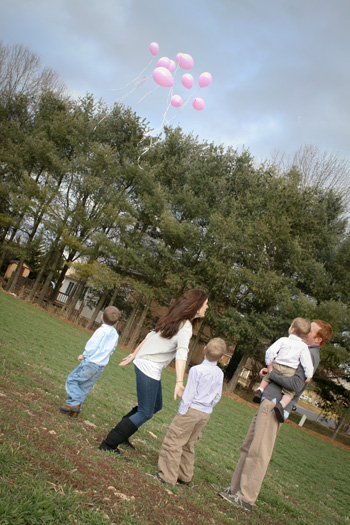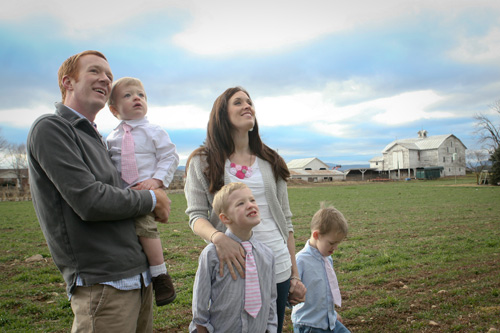 These balloons are essential to our Anna celebration. They symbolize three very important truths. First, the love we have for Anna and the love we symbolically send her way. Secondly, the letting go that must occur. It's excruciating to let go, but for me, without letting go I cannot be fully present to the ones that live. And lastly, our full and rising balloons remind us of the faith and hope that fill our hearts and cause our spirits to rise as well.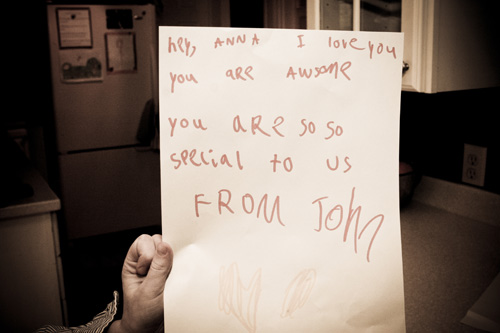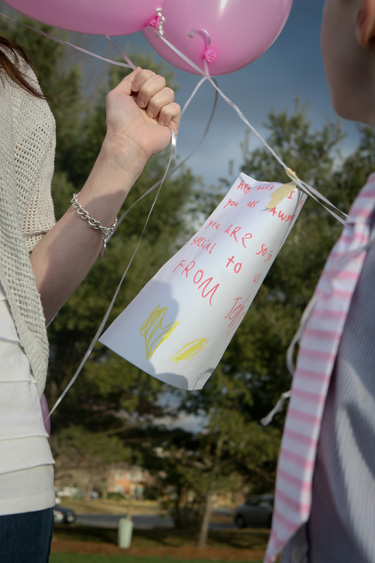 A few years ago my oldest son John began this tradition. He writes a letter which he attaches to the balloons, sending our words of love and longing to this child we adore so much.
For me, to celebrate in these ways is to acknowledge the reality of my daughter. Setting aside this day, and our time and energy to honor her, gives this heart sick mama so much joy. It is also important for us to acknowledge that even in the pain, peace exists, joy abounds and hope will rise. In choosing to celebrate, we are choosing to be blessed in our grief, choosing to be grateful for the life we once held, the life that we believe will one day be in our arms again. But until thenwe will huddle together in grief and hope and we will continue to celebrate Anna.
I realize that many of you reading my words have suffered the excruciating loss of a loved one. Or perhaps, you are looking for ways to care for someone who is grieving. I hope that by sharing our family traditions, you will be encouraged with ways to celebrate those you ache for, and that comfort, peace and joy will abound more greatly in your grief.
Read more from Kate at The Grace To Grieve.
Read other recent articles by Kate Kelty: