5 Favorite Fall Recipes
OCTOBER 30, 2018 / LINDSEY SHANTZ /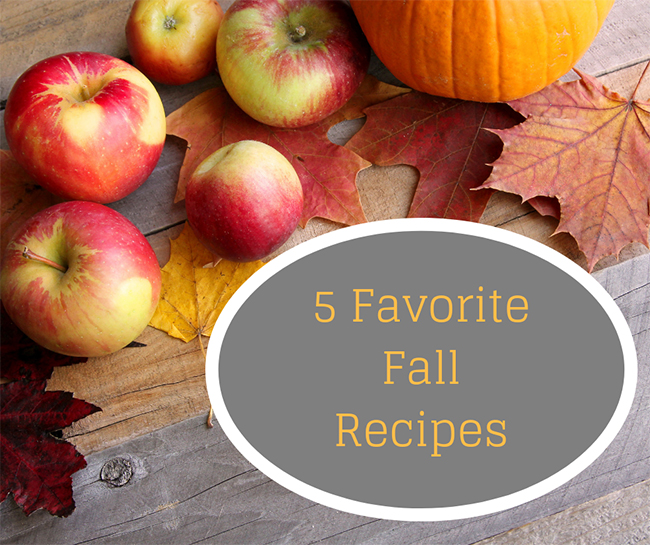 Have you been inspired to use recipes that include local, seasonal ingredients? When taking a meal to a new mom or friend with health issues or undergoing treatment, consider using minimally processed and whole foods to promote health and wellness. If the ingredients are in season --- that's even better!
The summer staples are gone at the farmers market and now the fall bounty is in full swing. The days are shortening, the leaves are changing and the warmth of home is inviting.
Here are some fabulous fall recipes to take to a friend or enjoy around your own table.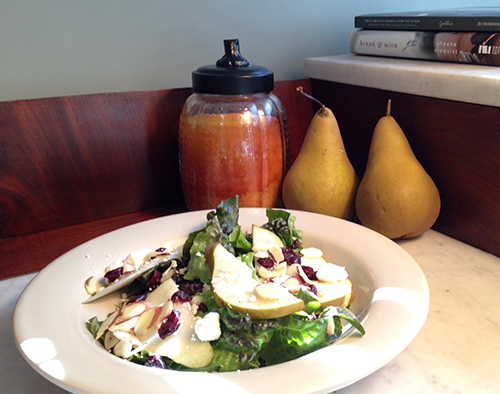 Green Salad with Autumn Fruit
1-2 pears or tart apples, thinly sliced
2 tablespoons lemon juice
Toss together in medium bowl.
6-8 cups lettuce or mixed greens, torn
Add to fruit along with any of the following:
1/4 - 1/2 cup cheese such as blue, Gorgonzola, feta, Parmesan, Asiago, or Gouda, crumbled and shredded
1/2 cup dried cranberries
1/2 cup walnuts, hazelnuts or almonds, coarsely chopped and toasted
1/3 cup oil
1 tablespoon Dijon mustard
1 tablespoon sugar
1 tablespoon lemon juice
1/2 teaspoon salt
1/4 teaspoon pepper
Shake together in a jar with a tight lid. You can also use another favorite poppy seed dressing or vinaigrette. Add dressing to salad and toss gently or arrange on individual serving plates. Serves 5-8.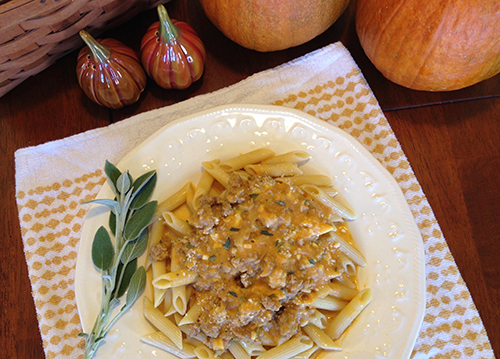 Pumpkin Sausage Pasta
1 lb. penne pasta or other chunky pasta
Cook, drain and set aside.
1 lb. bulk sweet Italian sausage
In a large, deep frypan coated with cooking spray, brown sausage over medium-high heat. When cooked, remove meat and set aside. Drain fat from frypan and return pan to stove.
1 medium onion, finely chopped
4 cloves garlic, minced
Add to frypan and saute until soft, 3-5 minutes
1 bay leaf
2 tablespoons fresh sage, cut into very thin strips
1 cup dry white wine or chicken broth
Add and cook until half of liquid evaporates, about 2 minutes
1 cup chicken or vegetable broth
1 cup pumpkin or winter squash, cooked, pureed
Mix in. Continue stirring until sauce starts to bubble. Add sausage and reduce heat.
1/2 cup evaporated milk
1/2 teaspoon ground nutmeg
1/8 teaspoon ground cinnamon
coarse salt and pepper to taste
Stir in milk. Add seasonings and simmer 5-10 minutes to thicken. Remove bay leaf. Pour sauce over cooked pasta. Combine sauce and pasta and toss over low heat for 1 minute. Garnish with freshly grated Romano or Parmesan cheese and fresh sage leaves (optional). Serves 6.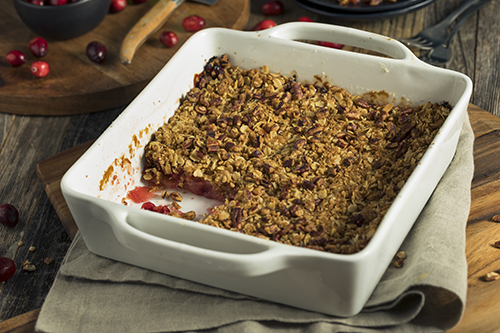 Cranberry Apple Crisp
4 cups cooking apples, peeled and sliced
2 cups cranberries
1/4 cup brown sugar
1 teaspoon orange peel, grated (optional)
Combine in a large bowl and toss gently until fruit is coated.
Place in greased 8 x 8 baking dish.
3/4 cup brown sugar
3/4 cup flour
3/4 cup rolled oats
1/2 cup oat bran
1 teaspoon ground cinnamon
Combine in a medium bowl.
1/4 cup butter
1 tablespoon oil
1/3 cup nuts, chopped (optional)
Cut into flour mixture until crumbly. Sprinkle evenly over apple mixture. Bake at 350 degrees until fruit is soft and topping is crisp, 45-50 minutes. Serve warm with milk, ice cream or frozen yogurt. Serves 6-8.
These three recipes were adapted and taken from my well-loved and well-used cookbook, "
Simply in Season
." This cookbook was commissioned by Mennonite Central Committee (MCC) to celebrate and bring awareness to fresh, local foods. I love how there is a recipe section for each season.
Are you wondering what's in season where you live? Check out this
Seasonal Food Guide
for the US to find out what's in season near you.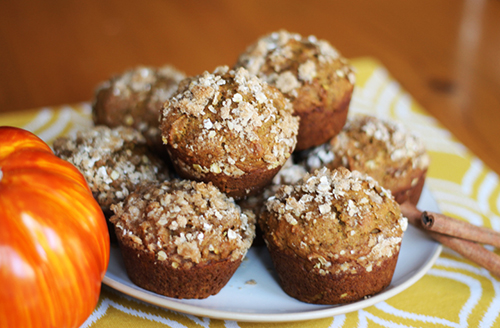 To further complete the meal you are taking, consider this pumpkin muffin recipe to provide a quick and nutritious breakfast. The recipe includes wholesome and healthy ingredients such as applesauce, whole-wheat flour, rolled oats and a whole can of pumpkin. The muffins freeze well too.
I encourage us to intentionally embrace the season we are in as we care for others and for the world in which we live.
Read other recent articles by Lindsey Shantz: