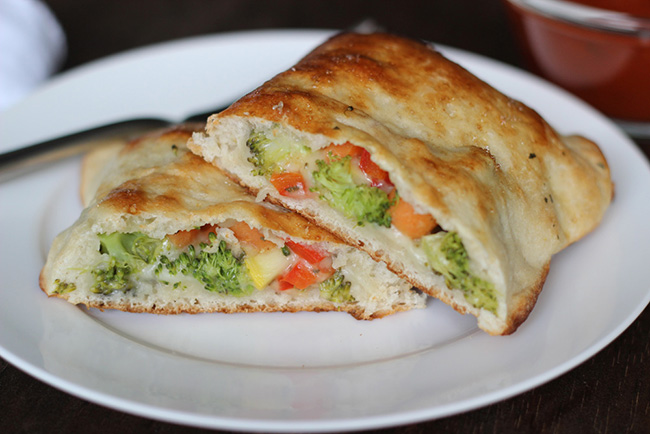 10 Easy Meal Ideas
If you want to take a meal to a friend in need but don't have the time to prepare a gourmet dinner, don't fret! Here are 10 easy meal ideas that require very few ingredients and minimal effort.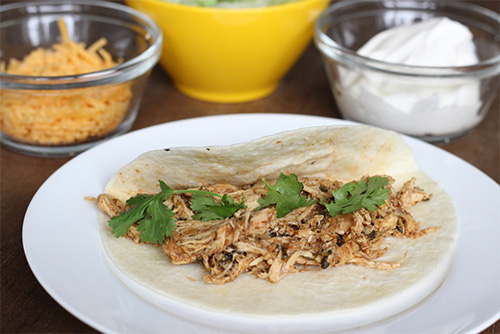 1. Tacos
This adaptable meal is sure to delight every member of a family, young and old. The options with tacos are endless. All you need for this fun and filling dinner is:
soft or hard taco shells
filling (ground beef, ground turkey, rotisserie chicken)
taco seasoning packet (we like Ortega or McCormick)
fixings (lettuce, chopped tomatoes, cheese, sour cream, salsa, and/or guacamole)
You can make the filling the day prior to taking your meal by following the directions on the back of the seasoning packet. If you have a little more time, we also love
this (gluten free) recipe for chicken tacos done in the crockpot
. Individually package the toppings in small containers, or Ziploc bags work great. Add some tortilla chips and salsa and the result is a delicious, colorful meal!
2. Pizza
Who doesn't love pizza? Most stores sell fresh or frozen pizza dough. Pick up some pizza sauce and mozzarella cheese and you're basically done. You can use shredded mozzarella or you can slice fresh mozzarella. We recommend taking the pizza ready to bake and including whatever toppings you think the family might enjoy (pepperoni, peppers, onion, spinach, mushrooms, etc) in Ziplock bags. Bring along a salad to round out this simple crowdpleaser.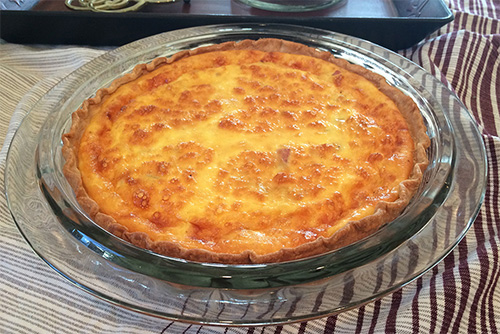 3. Ham and Cheese Quiche
It doesn't get much easier than this delicious ham and cheese quiche recipe from
Comfy in the Kitchen
. Pick up:
a premade pie shell
6 eggs
1 1/2 cups heavy cream
1 cup diced ham (can purchase this in the meat section of your grocery store)
1/4 cup diced onion
1 cup shredded cheddar cheese
Cook the onions with the ham for 5 minutes and pour into the pie shell. Beat the eggs with heavy cream until well blended and add salt and pepper. Pour into the shell and bake at 375 degrees for 35-45 minutes. Serve with some fresh fruit and you're done!
4. Rotisserie Chicken
So many grocery stores carry rotisserie chickens now. Grab a bag of nice salad greens and add some colorful vegetables (carrots, red peppers, cherry tomatoes). With the addition of the salad and some fresh bread, you have a complete, yummy meal.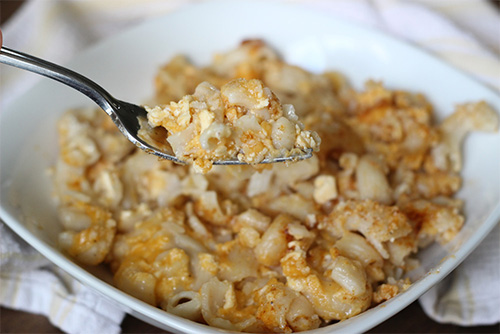 5. Mac and Cheese in the Crock Pot
Did you know you could make delicious macaroni and cheese using your crock pot? Simply cook the macaroni noodles in boiling water for 5-6 minutes and place them in the crock pot. Add the rest of your ingredients, sit back, and let the crock pot do the work. Serve with some frozen vegetables and store bought applesauce and you have a family favorite that everyone is sure to enjoy.
Click here for the full recipe
.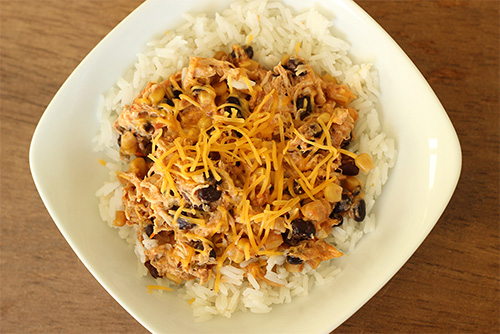 6. Easy Mexican Chicken
We love this meal because the only effort required is opening a few jars and cans. All you need is:
1 lb boneless chicken breasts
2 cans corn, drained
2 cans black beans, rinsed and drained
1 jar mild or medium salsa
1/2 cup sour cream
1 cup cheese
Place chicken in crock pot and cover with the corn, beans and salsa. Cook on low for 6-8 hours or high for 4. During the last 30 minutes, shred the chicken, put back in the crock pot and add the sour cream and cheese. Serve with rice and tortilla chips.
7. Seven Ingredient Chili
This is a fantastic, healthy chili. We started making this recipe a few years ago and it's now one of our staples. Send along some shredded cheese, sour cream, and a loaf of bread to complete this comforting meal.
Click here for the recipe
.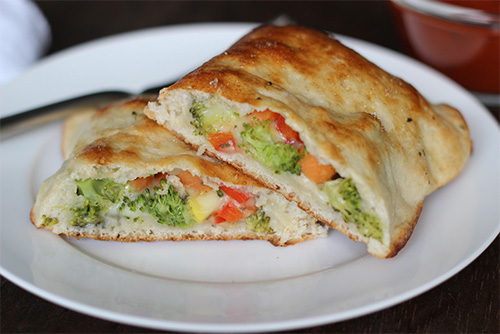 8. Vegetable Calzones
If you have a can of pizza dough, mozzarella cheese, 1 egg, and some veggies in your refrigerator, you have the makings of a super easy and delicious dinner. We love this vegetarian meal because it's healthy and totally customizable.
Simply unroll the dough and cut it into 4 rectangles. Add the cheese and top with whatever vegetables you have on hand (or pick up some carrots, broccoli, and peppers at the store). Add a sprinkle of garlic powder and basil, fold over the dough and press down the edges. Beat the egg white and brush over the top. Cut some slits in the top to allow the steam to escape and bake for 12-15 minutes at 425 degrees. Serve with some warm spaghetti sauce for dipping.
View the full recipe here
.
9. Breakfast Foods
The beauty of this meal, besides its ease, is that your recipient can enjoy in the evening and/or in the morning, based on their situation and needs. All you need is some store bought pastries, a pack of bagels, cream cheese, some nice jams/jellies, fresh fruit, good coffee or tea or some juice. It may not seem like much but this simple gesture is sure to go a long way.
10. Make Your Own Salad
Sometimes a big, fresh salad hits the spot. Simply buy a large tub of mixed greens and a variety of toppings such as:
Veggies - Bell peppers, sugar snap peas, carrots (grated), cherry tomatoes
Fruit - Apples, blueberries, pears, mandarin oranges
Protein - Tofu, grilled chicken, chickpeas, hard boiled eggs
Cheese - Cheddar, blue cheese, feta
Chop, if necessary, pack in Ziplock bags or plastic, disposable containers and let the family assemble according to their preferences. Or, you can put it all together in a gallon size bag so all they have to do is dump it out and enjoy. Bring along a bottle of a more neutral dressing, such as oil and vinegar or ranch. If you're especially short on time, many grocery stores have salad bars where you can fill up a container of toppings. Grab a loaf of french bread and smile knowing you provided a healthy, nourishing meal for a friend!
Read other recent blog posts: