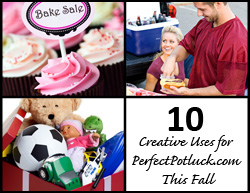 10 Creative Uses for PerfectPotluck.com This Fall
Every day, we are inspired by the creative ways that our sites are used. We developed
PerfectPotluck.com
over two years ago, after we learned our
TakeThemAMeal.com
users were seeking a simple solution for planning a single event where many people were needed to contribute food and other items.
At first, we knew
PerfectPotluck.com
would be used for picnics and bereavement meals. Here are some other creative uses of the site that we have seen:
Fire Assistance - A family lost everything in a house fire, so friends signed up to provide household items
Cookie Drives - During the recent fires in Colorado, cookies were donated to help keep firefighters encouraged as they were battling blazes.
Bake Sales - Many schools and organizations use the site to request the variety of items needed for a bake sale. Classroom and school parties are also planned using the site.
Holiday Gifts for Children in Need - Several organizations list the ages and gift ideas for children in need and gift providers can easily sign up.
Tailgating - Groups of friends use the site to coordinate who's bringing what items to the game.
5K Race - A non-profit uses the site to collect needed refreshments and items for their annual 5K.
Weekend Retreats - Many churches and groups put several meals on one meal plan, so a weekend of food needs can be easily coordinated.
Work Day - Often, a sick friend gets behind in indoor and outdoor chores. Friends use the site to organize a day of work to help get the jobs done.
Family Reunions - The site is used to ensure that all family favorite recipes are enjoyed at the reunion.
Holiday meals - The site is often used to help lighten the load of the host, so everyone can enjoy time with family and friends.
Labor Day is right around the corner and it's the perfect time to consider an end of summer potluck with friends and/or family. We'll be have our annual neighborhood picnic that week. We hope these 10 creative uses of PerfectPotluck.com inspire you to think of ways you can connect your friends and family this fall.
--
Read other recent blog posts: