Tracey's Italian Meatloaf (view other recipes)
Pin It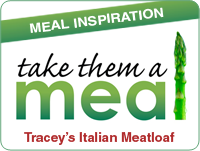 From the Fix-It and Forget-It Cookbook
2 lbs. ground beef

2 cups soft bread crumbs

½ cup spagheti sauce

1 large egg

2 Tbsp. Dried onion

¼ tsp. pepper

1 ¼ tsp. salt

1 tsp garlic salt

½ tsp dried Italian herbs

2 Tbsp. spaghetti sauce
Fold a 30"-long piece of foil in half lengthwise. Place in bottom of slow cooker with both ends hanging over the edge of cooker. Grease foil.
Combine beef, breadcrumbs, ½ cup spaghetti sauce, egg, onion, and seasonings. Shape into loaf. Place on top of foil in slow cooker. Spread 2 Tbsp. spaghetti sauce over top.
Cover and cook on High 2 ½-3 hours, or Low 5-6 hours.
Serving suggestion: Baked sweet potatoes make a great side. Just wash the sweet potatoes and rub a little olive oil on them. Wrap them individually in aluminum foil (poking them once or twice with a fork). Bake them on a cookie sheet covered with aluminum foil at 350 degrees for 1 hour. Send along a little bag of cinnamon and sugar mixed together to sprinkle on the potatoes.
Packaging suggestion: Place the finished meatloaf and the wrapped sweet potatoes in a 9x13 foil pan.