Overnight Breakfast Casserole (view other recipes)
Pin It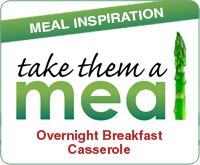 1 lb. sausage, cooked

6 slices white bread cubed

2 Tbsp butter, melted

1 1/2 cups cheddar cheese, shredded

5 eggs, beaten
2 cups half and half

1 tsp salt

1 tsp dry mustard
Brown sausage and drain. Toss bread cubes with melted butter in 9x13 pan. Top with sausage and cheese. Mix remaining ingredients and pour over all. Cover and refrigerate overnight. Bake at 350 degrees for 40-50 minutes.
Serving suggestions: Fruit
Packaging suggestions: Use a 9x13 foil pan for the casserole and cover it with foil. Write cooking directions on top of casserole for recipient to cook or deliver warm. Fruit can be transported in a gallon size bag or a disposable container.

Learn More
how it all began
contact us
Popular Articles...