Anne's Corn Casserole (view other recipes)
Pin It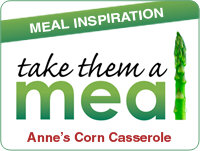 Submitted by Joe Renna
I also DOUBLE this recipe, and put it in a 13x9 dish.
1 can kernel corn, drained

1 can cream style corn

1 box Jiffy corn muffin mix

8 oz. sour cream

1/4 - 1/3 stick of butter or margarine

8 oz. shredded cheddar cheese (optional)
Preheat oven to 350 degrees.
Place butter in casserole dish while oven is preheating.
Mix all corn, dry Jiffy mix, and sour cream in a bowl.
When butter has melted, pour mix in casserole dish.
Bake uncovered for 45 - 55 minutes until set.
Turn off oven. Pour cheddar cheese on top.
Place back into oven until melted.