Chicken Lasagna (view other recipes)
Pin It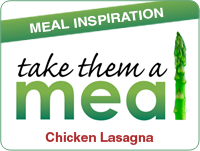 Submitted by Carla Allen
1 stick butter

3 tablespoons flour

4 cups chicken broth

1 teaspoon dried basil

2 cups cooked chicken, chopped

1 egg, beaten

24 ounces cottage cheese

2 cups shredded mozzarella cheese

12 ounces cooked egg noodles

Fresh grated Parmesan cheese

Melt butter and add flour. Whisk over medium heat. Slowly add broth, whisking for 2 minutes. Add basil and cook 10 minutes until thickened, then add chicken.
In separate bowl, mix egg and cottage cheese.
In a deep casserole dish, layer 1) chicken and sauce, 2) noodles, 3) cottage cheese, and 4) mozzarella. Repeat layers. Top with freshly grated Parmesan cheese.
Bake at 350 degrees for one hour.

Learn More
how it all began
contact us
Popular Articles...