Chicken and Stuffing (view other recipes)
Pin It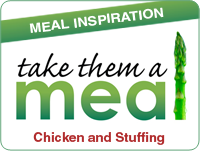 Submitted by Sabrina Maness
Preheat oven to 350 degrees. Spray a 9x13 pan with cooking spray.
Cut up chicken and put it in the bottom of your pan. This is where I usually season the chicken too.
Mix together the soup and sour cream. Put that on top of the chicken.
Dump the contents of the stuffing mixture in a bowl. Add the butter and water as directed on the box. Let it sit for a few minutes to soak up all the water into the bread crumbs. Put this over the soup mixture.
Bake for 35 to 45 minutes...til the chicken is cooked. I have used cooked chicken too and then you just need about 30 minutes.

You can add a bag of frozen veggies to the soup mix.