Easy Week Night Beef Pot Pie (view other recipes)
Pin It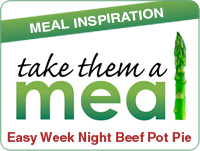 Submitted by Melanie Bauman
Base Mixture:
1 lb ground beef

1/2 medium onion - finely chopped

1/2 c. frozen peas

1/2 c. frozen corn

1/2 c. green beans

2 tbsp. flour

2 c. beef broth

Salt/pepper/garlic to taste
Brown hamburger, onion, salt, pepper and garlic.  Drain and return to pan - add flour and cook for a minute to cook out flour taste. Add beef broth and simmer until thick. Add salt/pepper to taste. Add vegetables and heat through. Put mixture into a casserole or baking dish.
Topping:
2 c Bisquick baking mix



1/2 c. cheddar cheese

1 c. milk

2 eggs
Mix until well blended and spread on top of meat and vegetable mixture. Bake at 400 degrees for 15 - 20 minutes or until topping is cooked through and golden brown.

I can have this meal ready in less than half an hour if I have the ground beef already prepared and in the freezer.