Meatball Sub Casserole (easy version!) (view other recipes)
Pin It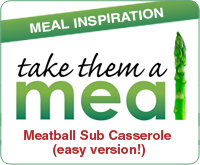 Submitted by Lawana Knapp
Arrange bread in a single layer in an ungreased 13-in. x 9-in. baking dish (all of the bread might not be used). Combine the cream cheese, mayonnaise, Italian seasoning and pepper; spread over the bread.  Place meatballs on top of cream cheese mixture.  Sprinkle with 1/2 cup mozzarella.

Pour sauce over cheese mixture; sprinkle with remaining mozzarella. Bake, uncovered, at 350° for 30 minutes or until heated through.

All my guys absolutely love this one!

Learn More
how it all began
contact us
Popular Articles...