Chicken Casserole (view other recipes)
Pin It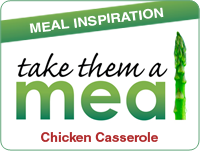 Submitted by Rhonda Fain
1 lb chicken breasts cooked and cubed or shredded

1/4 cup diced onion

1/4 cup diced celery

1/3 cup mayonaise

1/3 cup miracle whip

1/2 cup sour cream

1 can cream of mushroom soup

1 can water chestnuts diced

1 refrigerated crescent roll sheet
Shredded Cheddar cheese to sprinkle on top last 5 minutes of cooking
Combine the first eight ingredients in a saucepan and heat until bubbly and hot.
Pour into 13 x 9 pan.
Place crescent roll sheet on top of hot chicken mixture
Bake at 350 for 20-30 minutes until crescent rolls are lightly browned. Sprinkle top with shredded cheddar cheese for last 5 minutes of baking
Enjoy!!!