Shrimp Supreme (view other recipes)
Pin It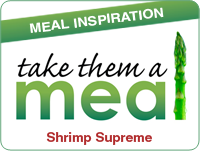 3 Tbsp milk

3 Tbsp Sherry

1 1/4 Old Bay (or more)

1/4 lb butter, melted

1 1/2 lbs. raw peeled shrimp

Bread crumbs or crushed croutons
Combine milk, Sherry, seasoning, and butter. Pour over shrimp. Sprinkle with bread crumbs. Bake at 350 degrees for 25 minutes in shallow dish. Broil until crumbs are golden.
Serving suggestions: Rice, tomato salad, and a nice loaf of bread finish out this meal. Halved grape tomatoes mixed with a little olive oil, mozzarella, basil, and a pinch of salt, make a colorful side dish.
Packaging suggestions: Two 8x8 foil dishes with lids are perfect for this dish and the rice. I take salad in plastic bags with each topping in its own bag. That way, each person can customize the salad.


Learn More
how it all began
contact us
Popular Articles...