Shrimp & Grits (view other recipes)
Pin It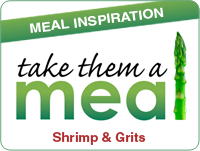 Submitted by Jennifer


8 cups water or shrimp stock
2 cups quick cooking grits
6 Tbs butter
4 cups shredded cheddar cheese
2 lb shrimp (peeled & deveined)
1 lb andouille sausage (sliced and halved)
2 garlic cloves (minced)
4 tsp lemon juice
1 1/2 cups chopped green onions
salt & pepper

In a large frying pan, cook the shrimp, sausage, and onions until the shrimp is pink. Then stir in the garlic and lemon juice. Cook for three minutes. While the shrimp/sausage is cooking, bring the water to a boil in a large saucepan. Once the water has boiled, slowly add the grits, while stirring. Turn down the heat to a simmer and add plenty of salt and pepper. Cook for five minutes, or until the grits have absorbed the water. Remove from heat. Stir in the butter and cheese. Then combine the shrimp sausage mixture and serve. This makes enough food for two families for dinner!

Learn More
how it all began
contact us
Popular Articles...