Beef Barbeque (view other recipes)
Pin It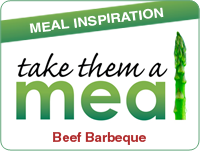 2 lbs. ground beef

1 medium onion, chopped

¾ cup brown sugar

1 Tbsp prepared mustard

2 Tbsp ketchup

½ cup of your favorite barbeque sauce
Brown ground beef and onion together.
Add the rest of the ingredients and heat on low for 15 minutes.
Enjoy!
Serving suggestion: Send along hamburger buns, potato chips, and peeled carrots.
Packaging suggestion: Put cooled barbeque in a disposable container like a foil pan that you cover with aluminum foil. That way, the barbeque can stay in the oven on warm until the family is ready to eat.