Chicken Corn Salsa (view other recipes)
Pin It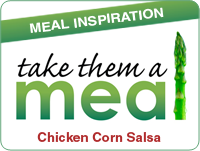 Submitted by Andrea Burke
1 pound cooked chicken (cook your favorite way, use leftovers or buy precooked chicken)

2 jars of mild salsa (medium if I'm cooking for my family)

2 cans of black beans (with liquid)

1 sm bag frozen corn
Shredded cheese (mild chedder, or any mexican blend)

Sour cream

Rice
Simmer all ingredients until heated through – the longer you simmer, the better it tastes.
Serve over rice, sprinkle some shredded cheese and add a dollop of sour cream on top to taste.
If I'm really pressed for time I will buy pouches of Uncle Ben's (brown) Ready Rice to heat up in the microwave before serving.
I usually include cornbread and a salad with this meal, and sometimes I'll throw in a bag of tortilla chips.