7-Ingredient Chili (view other recipes)
Pin It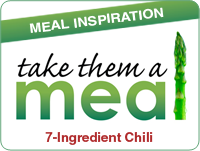 2 lb. ground turkey

1 large onion, chopped (about 1 cup)

2 Tbsp chili powder

½ tsp ground cumin

3 ½ cups V8 100% Vegetable Juice (regular or low sodium)

1 small green pepper, chopped (about ½ cup)

2 cans (about 15 ounces each) red kidney beans, rinsed and drained
Cook turkey, onion, chili powder and cumin in a 4-quart saucepan over medium-high heat until the turkey is well browned, stirring often.
Add the vegetable juice, pepper and beans to the saucepan and heat to a boil. Reduce the heat to low. Cover and cook for 15 minutes or until the vegetables are tender. Serves 6.
Serving suggestion: Grated cheddar cheese or sour cream to top off the chili and a loaf of fresh whole grain bread
Packaging suggestion: Large, wide-mouthed mason jars are great way to transport warm chili. Small plastic bags are an easy way to transport grated cheese.

Learn More
how it all began
contact us
Popular Articles...