Hearty Hamburger Soup (view other recipes)
Pin It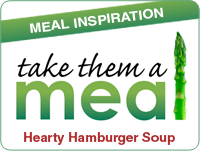 Submitted by Rachel Beery

1 lb. ground beef
1 C. onion
2 C. tomato juice
1 C. sliced carrots
1/2 C. chopped celery
1 C. diced potatoes
1 tsp seasoned salt
1 tsp. salt
1/8 tsp. pepper
4 C. milk
1/3 C. flour

Brown meat and onion. Stir in next 7 ingredients. Cover and simmer until vegetables are tender, approximately 20 to 25 minutes. Combine flour with 1 cup milk. Stir into soup and boil. Add remaining milk and heat, stirring frequently. Heat until hot, but don't allow to boil.

Learn More
how it all began
contact us
Popular Articles...