Sweet Aromatic Chicken (view other recipes)
Pin It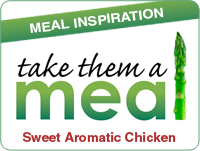 From the Fix-it and Forget-it Cookbook
½ cup coconut milk

½ cup water

8 chicken thighs, skinned

½ cup brown sugar

2 Tbsp soy sauce

⅛ tsp ground clove

2 garlic cloves
Combine coconut milk and water. Pour into greased slow cooker. Add remaining ingredients in order listed. Cover. Cook on Low 5-6 hours.
Serving suggestion: This recipe goes great over rice. Add a side of raw carrots with dip.
Packaging suggestion: Take the rice and the chicken in separate containers. The chicken with have a generous amount of juice, so something with a lid that seals would work well.