Tamale Pie (view other recipes)
Pin It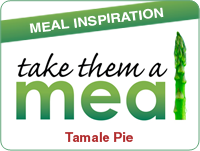 Submitted by Sara Hubert
Meat mixture
1 lb (or more) ground beef

1 onion, chopped

2 cloves garlic, chopped

1 package chili seasoning + 1 tablespoon chili powder

1 15-oz. can chopped tomatoes

½ cup dry red wine, like Cabernet Sauvignon or Merlot

1 4-oz (medium) can sliced black olives

1 15-oz. can kidney beans, drained
Topping
1 box Jiffy corn muffin mix

1 egg

1/3 cup milk

1 15-oz can creamed corn
Preheat oven to 400°. Grease or spray Pam in a 13"x9" glass dish.
Brown ground beef over medium heat. Add chopped onion and sauté until translucent. Add chopped garlic and cook until fragrant. Add chili seasoning, chili powder and wine. Mix to combine. Stir in olives and kidney beans. Cook for 20 minutes, stirring occasionally. If it appears dry to be getting too dry (not saucy), add some additional wine.
While meat mixture is cooking, make cornbread and creamed corn topping mixture by mixing all ingredients together in a medium bowl.
Place meat mixture in baking dish and smooth out top. Pour cornbread topping over meat and spread evenly, trying to cover all the meat. Bake for 25-30 minutes or until slightly browned on top. Do not under bake – mushy cornbread is gross!
Serves about 6 hungry adults.