For those times in life when filling their table will warm their hearts.
Simplifying meal coordination so friends, family, neighbors and co-workers can show they care.

Create A Meal Schedule . . .
Create a customized online sign up sheet to include phone numbers, driving directions, food allergies and more that makes it easy for friends and family to take meals to those in need. Learn more by viewing a sample schedule or creative meal schedule ideas.

Fast, Easy, and FREE

Get Started in 5 Minutes or Less

We Send the Invitations

Automated Reminder Emails

Multiple Needs Per Day
For You with Love.... From, Many

Posted by: Kate Kelty, TheGraceToGrieve.com on Jan 19, 2015
I love food. I love every silky, creamy, crunchy, gooey, nurturing morsel. But perhaps I love food the most when my hands are not the ones that prepared it. We joke in my family that [...]
Hospice, Ice Cream, and a Grandma's Love

Posted by: on Jan 12, 2015
Every time we would go over to "Grandma Puppies" house, she would be certain to make the kids an ice cream cone [...]
How to support someone through loss and transition

Posted by: on Jan 5, 2015
Trying to support a friend or family member while they are going through a major life transition can be a very helpless feeling. We don't know what to do, what to say, or how to act. Are we being supportive enough? Are we too [...]
Our 9 Favorite Gifts

Posted by: on Dec 24, 2014
This year, our list of favorite gifts is going to look a little different. Even before my dad passed away on the day before Thanksgiving, I was planning to create a gift list of items that are meaningful and require only a small [...]
The Gift of Freezer Meals

Posted by: on Dec 15, 2014
It's been a year full of great challenges and great encouragement for my family. Facing the worries and fears of my infant son needing two heart surgeries, I had to [...]

Learn More
how it all began
tips from the pros
contact us
Most Popular Shipped Meal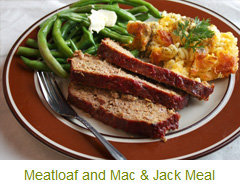 Popular Articles...